A youngster making their way back to school in 2023 after a beefy summer break can be scary, given the perplexity of it, but as a wise man once said, nothing stands in the way of preparing for something beforehand. Chromebooks have long dominated the US educational sector, so the question is, are you packing one to help you get through the school year this time around?
In the write-up at hand, we'll be talking about the best, most bang for your buck Chromebooks to buy in 2023 with an extended Auto Update Expiration (AUE) date. Not to go off-track here, but if you're not sure what that is, learn all the things you can do when a Chromebook arrives at its end-of-life date here and stay in the know.
Let's move forward with our top picks and get you excited to dominate the school season ahead.
5 of the best cheap Chromebooks for Back to School 2023
Our choices of Chromebooks ahead have been vetted to ensure reliability for days on end. We've picked these devices based on various metrics, such as build quality, battery life, portability, and overall value. Each Chromebook will have its dedicated review attached in its relevant subsection. We suggest checking it out to consolidate your purchasing decision even more.
1. Lenovo Flex 5 Chromebook
Kicking this list off with a bang is the Lenovo Flex 5 Chromebook, undoubtedly one of the best products that Lenovo—a giant of the industry—has ever pushed out. This fine specimen blends cost-effectiveness and high quality like a dream, offering an FHD (1920 x 1080p) touchscreen, a speedy Intel Celeron i3-10110U processor, and 4 GB RAM.
Moreover, this one sports a convertible form factor with 2-in-1 functionality, which ought to provide a heightened level of accessibility to youngsters preparing to head back to school. Whether the junior wants to learn cursive writing by flipping the screen back in a 360° motion or enjoys the versatility of the tent mode, the Flex 5 is ready to go.
Multiple configurations can be looked into when buying the Flex 5 Chromebook, and if you can stretch your budget a little, you can get a relatively specced-out version of the device that boasts 12 GB RAM and 256 GB storage for $459.99. The base model should suffice, given its sturdy build, flexible form factor, and decent hardware.
2. Samsung Chromebook 4+
Samsung is one tycoon of a tech manufacturer, with the company's hands reaching almost every facet of the modern technological world. The Samsung Chromebook 4+ is a device that has managed to stand the test of time thanks to its robust build quality and ruggedness. This is one of the perfect picks for back-to-school children in 2023, considering its Auto Update Expiration (AUE) date is still many years out, i.e., June 2027.
It's a large-sized Chromebook, measuring about 15.6 inches in screen size, with decent specifications and an attractive price tag—$249.99. The screen is FHD (1920 x 1080p), and the battery life is just enough to last you a whole day of school. It's not as lightweight as most other Chromebooks, weighing about 3.8 pounds, but it's still easy to carry.
Lastly, the Samsung Chromebook 4+ is worth the time and effort because of its reliable performance. The device can comfortably run educational applications like Memrise and Khan Academy. Linux applications work smoothly on the Chromebook, too, should you ever choose to flip on the Crostini Linux terminal.
3. Lenovo Duet 5 Chromebook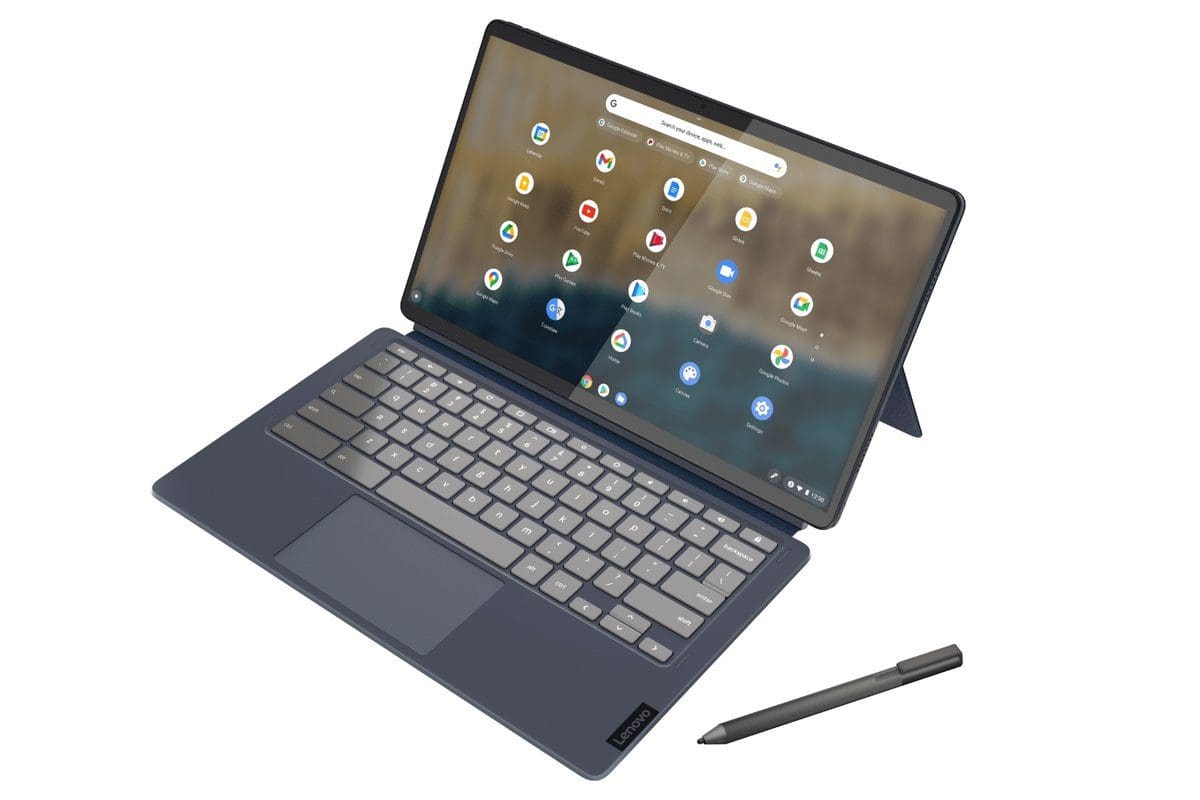 Moving forward, we've got our hands on an incredibly portable Chromebook that also comes with a detachable keyboard. You can separate the screen from the keyboard and use the Duet 5 Chromebook as a full-fledged tablet. And we all know how ChromeOS tablets are superior to Android ones—heck, we can give you 5 reasons for that ourselves.
The Duet 5 Chromebook excels because it's based on Lenovo's winning formula of the original Duet Chromebook. When the latter first came out, critics and commoners found it an instant hit across the board, costing next to nothing, considering the value proposition, and delivering actionable results daily.
Being the successor to that universally acclaimed device, the Duet 5 Chromebook comes with an OLED 13.3-inch FHD screen, 4 GB RAM, and 128 GB storage, not to mention the 400 nits brightness capacity of the device. Apart from the core hardware components, the device takes pride in its top-tier keyboard and trackpad, both of which back-to-school children will find comfortable using regularly.
4. Acer Chromebook Spin 311
The Acer Chromebook Spin 311 is another capable Chromebook you can pick up as part of your back-to-school venture. It's cheaply priced, setting aspiring purchasers back about $209 and offering an 11.6-inch HD touchscreen with 2-in-1 functionality. The latter automatically opens up a world of flexibility for users bar none.
Moreover, with an Intel Celeron N4000 processor, 4 GB RAM, and 64 GB memory, the performance levels should be good enough to sort out software such as Google Classroom. Outside of class-centric stuff, Android apps such as Duolingo also work like a charm. All things considered, the Spin 311 is worth the money at the price point of $200 for a young one preparing to head back to school.
Just one more thing before you head off, the Spin 311 comes in several variants. The Amazon listing we're linking you to is the CP311-2H-C7QD model, whose end-of-life is slated for June 2027, as per Google's official declaration. Ensure you get the exact configuration of the device for the best results.
5. Asus Chromebook Detachable CM3
Being one of our favorites on the list so far, the Asus Detachable CM3 is a budget-friendly Chromebook with a lot of punch to its name. It also comes with a garaged stylus for enhanced mobility, thereby being one of the best Chromebooks out there with an in-built stylus.
When writing this article, the device was discounted by 9% off its MSRP and is currently purchasable for $335.99. The screen size measures 10.5 inches and sports a 16:10 aspect ratio. Furthermore, given the device's portability, a kickstand cover is involved that can allow you to transform the CM3's form factor.
That makes the Chromebook optimal for various use cases, whether study, work or play. As for the unit's performance, expect smooth sailing for the most part. The CM3 employs the working efficiency of a MediaTek 8183 processor along with 4 GB RAM. And don't even get us started on the battery life of this sleek speed demon.
The CM3 employs a 27WHrs, 1S2P, 2-cell Li-ion battery that can charge up to 50% in somewhere around 45 minutes and last you north of 14 hours to boot. If that isn't state-of-the-art, we don't know what else is.
Honorable mention: HP Chromebook x360 14c
Another back-to-school Chromebook that couldn't make it to the top 5 list because of its relatively costlier pricing is the HP Chromebook x360 14c. The only reason we're mentioning the Chromebook here about the price, which is $659.99, is that Amazon is selling a refurbished version of the device in allegedly excellent condition for $264.95.
Take that pricing into account for a minute and picture a 10th-generation Intel Core i3-115G4 processor, 8 GB DDR4 RAM, a remarkable 14-inch FHD, IPS touchscreen, with a borderless display. That's not all, but the x360 14c features great speakers, a flawless trackpad and keyboard combo, and Wi-Fi 6. This complete package will blow your back-to-school requirements out of the water at a sub $265 price point.
Since this is a refurbished Chromebook, some users may not want to opt for it, but for others, this could be just what they wanted. Evaluate your preferences and act accordingly, and while you're at it, make sure you're wary of the fundamentals of buying a refurbished Chromebook.
Conclusion
It's been a while since Chromebooks started gaining headway in sectors outside its expertise, such as gaming. The top-ranking Chromebook manufacturers of our time, such as Acer and Asus, have begun to make gaming-centric Chromebooks as of late, which is a sigh of relief for many worldwide.
With that said, if the situation boils down to students and school-goers looking for an affordable package that wouldn't let them down in terms of performance and battery life, ChromeOS is what you should be looking at. Gear up for the school season ahead with the picks we've laid out for you above, and you should be all set to proceed.
Let us know in the comments section below which device you went with. Chrome Ready wishes you a happy shopping!