When we talk about Chromebooks in general, it's normal to expect devices to falter in some areas and perform well in others. As you go up the price range, more and more premium-range Chromebooks like the Google Pixelbook Go and the Asus Chromebook Flip C436 begin to appear in the spotlight. However, in terms of Chromebooks that fall in the budget range, there are slim chances to find a device on par with the Lenovo Chromebook Duet.
In this article, we'll discuss everything there is to talk about the Lenovo Chromebook Duet, highlight its major pros and cons, and leave a verdict representing our two cents on whether you should buy this device or not. Let's jump right in with the technical specifications.
Lenovo Chromebook Duet Specifications
CPU: MediaTek Helio P60T Processor
Display: 10.1″ FHD (1920 x 1200) IPS Display
Hard Drive Size: 64 GB
RAM: 4 GB
Camera: Front 2 MP, Fixed Focus Rear 8 MP Auto Focus
Ports: Gen 2 USB-C Port
Weight: 2.03 pounds
Price: $250
Lenovo Chromebook Duet In-Depth Review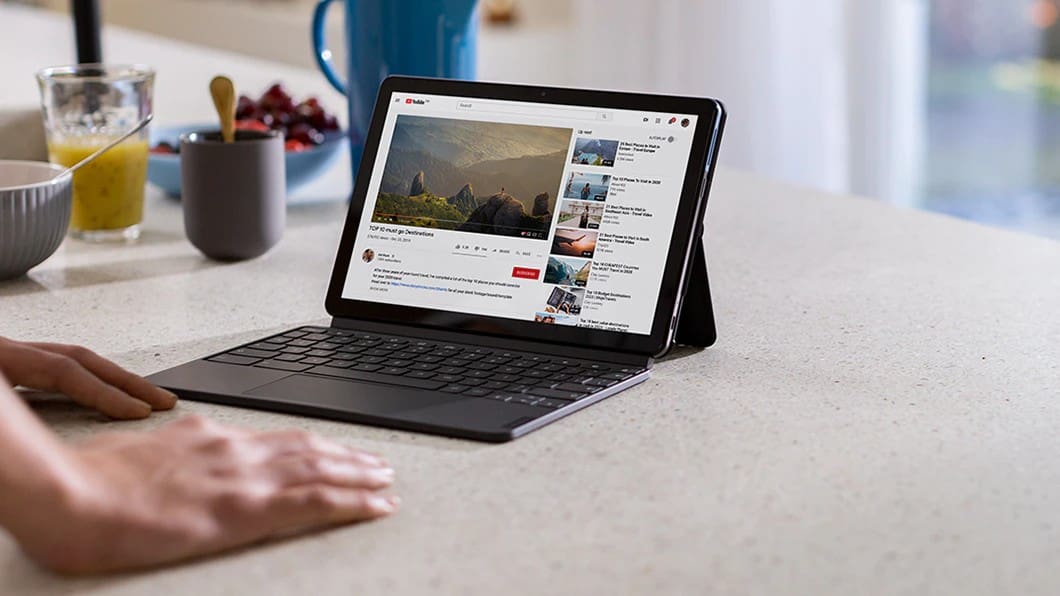 Design
Before we get into the design of this Chromebook, let us put it out here beforehand that the Lenovo Chromebook Duet's price tag changes the way it's looked at and reviewed. For an incredibly low price of sub $250, there's a lot less to hate about this device. With the initial disclaimer out of the way, this Chromebook has the privilege of boasting excellent build quality. As soon as you pick the Duet and hold it in your hands, you'll feel its premiumness and how it has been put together quite nicely. There's nothing that could hint towards this device being cheap, which is quite the case, however. The Chromebook tablet body is all-metal, and the tablet itself weighs even less than 1 pound. Apart from being decently lightweight, it's also extremely thin, making users acknowledge how ultra-portable it is.
Due to its convertible form-factor, the Lenovo Duet comes with a detachable keyboard and a kickstand back-cover without any additional purchase. The 5-point pogo pin and magnet design work exceptionally well on this device, and when you put it together and turn it into a clamshell laptop, it's only then you'll realize the top-end quality of the Duet. With the keyboard attached, the device's overall weight becomes just a bit over 2 pounds, which is still easy enough to carry around everywhere and use on the go. The next area to talk about in this magnificent piece of tech is the screen, and let us affirm right now that the value proposition is starting to get unreal.
We're talking about a 10.1-inch FHD (1920 x 1200) IPS display with a 16:10 aspect ratio that kills it right out the gate. The PPI (Pixels per inch) looks great, viewing angles are spectacular, and colors are rich and vivid. Either you use it as a tablet which you may do a lot, or get it down with a keyboard, you'll find that the screen is just pleasurable to work with, and again, seeing this kind of quality on a device that costs much less than $300 is just amazing. Moreover, something that gets even high-end Chromebooks in trouble is the brightness. Luckily for the Duet, the screen sports 400 nitts, meaning there won't be any circumstance where the screen will feel dimmer than normal for you.
Moving on to this device's keyboard, the key travel is nice, but the spacing of the keys has been kept tight. This is because of the tablet-first nature of this Chromebook, but rest assured, typing on it feels good and productive after getting used to the pattern of this keyboard. The trackpad, following the size of this device, has also been made relatively small. It performs well, however, and there only slight hiccups to worry about. It works especially good when you lay the Chromebook down on a table and use it from there on out. The speakers also exhibit class and quality. They sound nice, are loud as well, and there's just that right amount of stereo separation to get you going in full flight.
To talk about this Chromebook's apparent, major downside, there's only a single USB-C port for its I/O and nothing else. You can only do one thing at a time with the Lenovo Duet: you can either charge it or use an external drive. However, coming with the box is a headphone/microphone jack that you can use in place of a 3.5 mm headphone jack. You can then use your earphones and connect them with your Chromebook.
Performance
Under the quality design of this Chromebook, the Lenovo Duet is packing a MediaTek Helio P60T processor, 4 GB RAM, and 64 GB of storage. There's only one other model of this device that costs significantly higher but gives you 128 GB of hard drive size, which is basically double the Duet base version. Anyway, in terms of performance, there are two different aspects to shed light on here. This device is made to deliver a tablet and a Chromebook experience both, so it gets interesting to gauge how exactly the Duet performs when put to the test. Post consistent testing, this remarkable Lenovo specimen has a lot going on for itself. As a tablet, its performance is top-class. All the screen gestures and swipes feel fluid and responsive, and it's able to load several Chrome tabs and Play Store applications side by side without slowing down.
To embolden the Lenovo Chromebook Duet's standing position, it has its Auto Update Expiration (AUE) date set in June 2028. This means 7 more years of regular updates and improvements that will further enhance your experience on this device. With that being said, it'd be only the truth to put it out here that this Chromebook isn't made for heavy workloads. It's more of a pick-it-up-and-move-with-it type of Chromebook, but that isn't to undermine its capabilities. It's only to certify that given the size of the keyboard and the trackpad, you'll probably tire yourself out during long bouts of work. However, if it's a modest 2-in-1 experience you're looking for that'll offer you focused uniformity day in day out, the Lenovo Duet is an excellent performer in that respect.
Battery Life
Another reason to buy the Duet is its best-in-class battery life. The manufacturer says that you can get anywhere from 10-12 hours of battery runtime on it, and they're exactly spot on with that statement. For most users, the Duet lasts 11 hours+, and this makes it a Chromebook with one of the best battery timings that you can buy in 2021. Combine that with great performance, solid design, and a top-notch display; the Duet is an absolute game-changer.
With a USB-C port, charging is also fast, although it has become commonplace in modern Chromebooks. It'll take 2-3 hours at best to get the Duet 100% charged, and if you want to deal with something quickly but your device just reached 0%, charging it for about 10 minutes will allow you to use it for 40-50 minutes. Pretty convenient, wouldn't you agree?
Final Verdict
By now, you're probably thinking what we're thinking. The Lenovo Chromebook Duet is a phenom in the Chrome OS industry. For such a fantastic price, you're getting what no other Chromebook could beckon to match. Except for a few limitations, there's just so much that outweighs the flaws of this device. At $250, there's truly no other competitor that we would rather pick up in place of the Chromebook Duet. We can recommend it to every user out there looking for a balanced-out experience in the budget-friendly range.