When it boils down to the best Chromebook manufacturers in the Chrome OS industry, ASUS marks itself as a top runner with decades of cutting-edge, innovative experience and adept capability. We have seldom seen a device as willing to deliver beyond expectations as some of ASUS's offerings. Due to these reasons and then some, this Taiwanese manufacturer has made our list of the most top-rated Chromebook manufacturers out in the world today.
The #1 Chromebook that you can purchase right now is the Chromebook Flip CX9, and that too is a product of ASUS. It's an incredibly versatile and future-proof Chrome OS laptop with a substantial "ErgoLift" design and top-of-the-line specifications. We've covered this device from top to bottom in our review article, so let's shed light on a different type of beast today – the ASUS Chromebook Detachable CM3.
Starting at $365 on Amazon presently, the laptop at hand promises good value and a high-quality design with a built-in stylus for unleashing your creativity. But, of course, there's a lot more to discuss on this Chromebook, including its pros and cons; and significant strengths and weaknesses, so let's get further into this review and talk about all that.
The following are the technical specifications of the ASUS Chromebook Detachable CM3.
ASUS Chromebook Detachable CM3 specifications
CPU: MediaTek Kompanio 500 (8183) 2.0 GHz
Display: 10.5″ WUXGA HD (1920 x 1200) 16:10 wide view glossy LCD display
Graphics: Arm Mali-G72 MP3
Hard drive size: 64 GB eMMC flash drive
RAM: 4 GB
Camera: 2.0M camera, 8.0M camera
Ports: USB 2.0 Type-C, 3.5mm headphone jack,
Battery Type: 27WHrs, 1S2P, 2-cell Li-ion, 12-14 hours runtime
Charging Speed: 50% in 50 minutes
Weight: 1.12 lbs (0.51 kg)
Price: $365
ASUS Chromebook Detachable CM3 in-depth review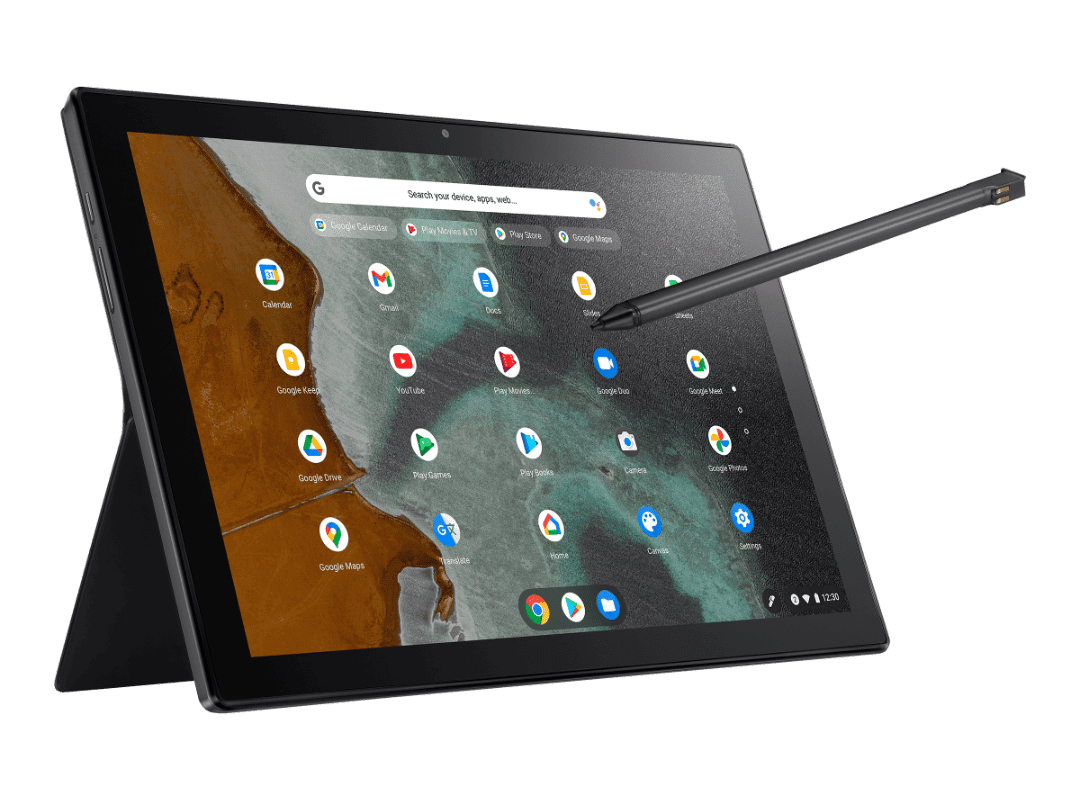 1. Design
The ASUS Chromebook Detachable CM3 is quite like the Lenovo Chromebook Duet when it boils down to its 2-in-1 convertible design and form factor, but there are considerable differences between the two. For starters, the Detachable CM3 comes with a garaged stylus and costs somewhere around $370, whereas the Duet does not have a stylus to its name and is priced much cheaper at somewhere around $250. However, to discuss similarities, both devices use a rear magnetic cover with a kickstand and a magnetic snap-on keyboard.
In addition to that, the CM3 sports a 10.5″ FHD (1920 x 1200) touchscreen-enabled WUXGA 16:10 aspect ratio display which, to our surprise, has turned out to be excellent. The colors on the screen look sharp, and the texture quality is fantastic. The brightness caps out at 320 nits which is more than enough for a wide variety of settings, so no matter if you're on the fly with the CM5 while working outside on a sunny day, the display, resolution, and overall quality will not disappoint you in any way. However, the bezels on the screen are pretty significant and will catch your eye from time to time, but we presume one can live with that to a reasonable extent if the display quality is keeping you satisfied.
Next comes one of the CM3's most vital selling points: portability. The unit as a whole with the keyboard attached weighs about half a kilogram (1.12 pounds), and this is almost as portable as a Chromebook can genuinely get. Measuring 10.06″ x 6.58″ x 0.31″ dimensionally, the CM3 can fit inside your backpack with comfort and ease as it occupies a small and slim footprint. Moreover, it complies with the US MIL-STD 810H military-grade standard so that durability will be nothing but top-notch.
You can give this device to your kid and not worry about anything in-between. After being tested fairly for drops, shocks, falls, and liquid spells, the Detachable CM3 will push through whatever your little one throws at it. As for the keyboard, it's quite large and spacious, better than the Chromebook Duet, in all honesty, and has a reasonably decent click mechanism. It isn't LED-illuminated, though, but that's pretty much expected at this point.
Were you eyeing a good keyboard for your Chromebook? Check out our curated list of the top 10 wireless keyboards for your Chrome OS laptop.
Similar remarks go for the CM3's trackpad, which is comfortable to use and feels firm and clicky. ASUS has done a great job at making the keyboard and trackpad quality components, so there's that. Another impressive trait that we don't get to witness too often is the admirable quality of the CM3's dual five-magnet stereo speakers. They sound above average and better than the Lenovo Chromebook Duet.
One major knock that many people will have with this device is the scant port selection. The device uses a single 3.0 USB Type-C port paired with a 3.5mm headphone jack to accommodate your headsets. There isn't any other port on the CM3, so you should pack a USB-C hub for your peripherals to keep connectivity at its best.
2. Performance
The ASUS Chromebook Detachable CM3 uses a MediaTek Kompanio 500 (8183) 2.0 GHz processor with a 4 GB RAM and 64 GB hard drive storage setup. There's also another configuration available for this Chromebook where the RAM goes up to 8 GB, and the storage is increased with 128 GBs of space. Performance-wise, the CM3 is quite average, if we're honest. Don't expect the best of performance displays while you're using this device, as we've witnessed on and off performance levels from the CM3. However, if you refrain from pushing the Chromebook to its limit by opening up a dozen Chrome tabs at once coupled with multiple Play Store and Linux applications, you'll get along with it just fine.
Being a touchscreen Chromebook that happens to come with a stylus as well, you'll find yourself multi-tasking quite a few often on this device. While you can get that done to a certain extent, attempting to run 4-5 different categories of programs will start to result in some stuttering, so you should keep the device to its level. Don't forget that you can stream Netflix, Amazon Prime Video, and Crunchyroll shows comfortably or put on your productivity pants and work online with Microsoft Office files lag-free. Still, the key here is about going steady and not cramming in everything at once.
3. Battery life
When it boils down to the battery life of the ASUS Chromebook Detachable CM3, you're going to love this device. It can continuously last up to 14 hours if you pit it against a video streaming test and anywhere from 11-12 hours for everyday use. Furthermore, these figures are seamlessly best-in-class in the Chrome OS space, so if you're looking for a Chromebook that can last you a whole day and muster in a couple of more hours, the detachable CM3 is the one for you.
ASUS has managed to fit a 27WHrs, 1S2P, 2-cell Li-ion battery inside this device that charges up to 50% in 50 minutes. The CM3 flies past its direct competitor, the Lenovo Chromebook Duet, in terms of battery life, so there you have this added pro of the Chrome OS laptop in question.
4. Final thoughts
The ASUS Chromebook Detachable CM3 is a solid unit with plenty of exciting features. Many people are after a device that performs decently, lets them use a touch-enabled screen, and outlives the day easily. This Chromebook exceeds our limitations in all those aspects, except for the performance area, where you will see it falter from time to time, only when you put it to the test, though. Apart from that, the detachable CM3 comes with a built-in garaged stylus with high precision and accurate movement to help you create drawings, take notes, and control the device with another input method.
With that being said, if you're willing to dish out $360 for a Chromebook with excellent battery life, splendid 2-in-1 form factor with a kickstand cover, superior portability, and a high-quality tablet experience, the detachable CM3 is an intriguing option. If not, the Lenovo Chromebook Duet comes cheaper, has better build quality, and sports consistent performance levels. If you happen to find the CM3 on sale at a price that's around about the Duet, we highly recommend shooting for it to gain the added benefit of the built-in stylus and plus-sized all-day battery life.