Chromebooks are known for their low prices. They have dominated this market because of their affordability and compactness for on & off users. Their usability lies in the fact that even though they can be found for much lower prices, they can get almost everything done. However, many low-end Chromebooks have some sort of performance issues when it comes to extensive applications. But this narrative has been shifted around on its toes with the launch of the new Samsung Chromebook 4+.
Let us address the elephant in the room and clearly state that Chromebooks cannot be compared with other laptops in terms of their quality. When you are purchasing a computing device at such a price, you cannot expect everything. Generally, many people who need to perform minimalistic tasks can overlook the differences in terms of build quality. Though, when a person is compromising one aspect of a device, he/she expects to have a smooth performance throughout the day. Sadly, many Chromebooks launched in recent months have failed to do so, and this is what allows the Samsung Chromebook 4+ to stand apart.
With a new class of Chromebooks in the market, we can hope for all of this to end for good. With the latest Chromebooks with Intel Celeron N4000 Gemini Lake processors, you are in for a treat. In Samsung Chromebook 4+, the modifications made to drive down its retail price are mostly shallow. This enables it to maintain speedy performance at all times.
Samsung Chromebook 4+ Specs
CPU: Intel Celeron N4000 processor
Display: 15.6-inch 1080p
Hard Drive Size: 32 – 128 GB eMMC storage
RAM: 4 GB
Camera: HD 720p
Ports: 2x Type-C Ports, 1x Type-A Port, Headphone Jack, MicroSD card slot
Weight: 3.74 lbs / 1.7 kg
Price: $299
Samsung Chromebook 4+ Review
Design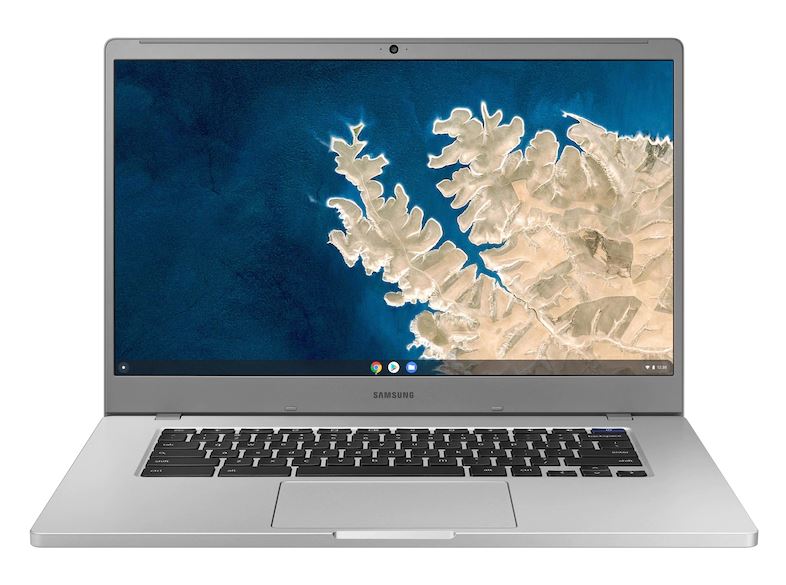 Samsung Chromebook 4+ comprises an all-aluminum lid on top. This gives it a solid and more rigid look for someone taking a peek at it for the first time. The build quality, in general, is not comparable with high-end Windows laptops or MacBooks, but it can be described as satisfactory enough for a laptop that can be bought with only $300 in your pocket. The bottom half of the device is made from plastic. Here, it would be fair enough to say that it does not spark off the same appearance as the lid. Moreover, this plastic is not as firm or acceptable as we see on most Chromebooks. It's flimsy, light, and provides a not-so exquisite look to a potential buyer. This plastic body is what makes this Chromebook flex disturbingly. Again, this will strikingly provide a reminder that you are purchasing a budget device at the end of the day.
Now, let us move on to the design of input methods integrated into this Chromebook. Even though the keyboard and trackpad on any laptop are so closely tied with its build quality, the ones on this Chromebook are actually pretty good. The keys on its keyboard are really nice and click just the right amount. Their depth of travel is neither too short nor too long. This makes this keyboard a quite comfortable accessory of this device. The flex in the chassis of this laptop did not seem to disturb the typing experience as well. The trackpad used by Samsung on Chromebook 4+ is large, spacious, and somewhat clicky. It is surprisingly responsive and provides an authoritative feeling when you are rushing from one task to another. However, since it is made of plastic, it will leave nothing on its part to absorb oils. Only for this very reason, some people might want to use an external mouse with Chromebook 4+.
The display on Samsung Chromebook 4+ is marked with a 15.6-inch screen having a 1080p resolution. It can be easily remarked that the manufacturers for Chromebook 4+ could have definitely put in more when it came to screen resolution. Other than that, the viewing angles are not as good either. The screen on this device employs TN panels, and they are the ones to blame muted colors and truncated viewing angles. Even if you are not expecting a perfect display, you can be effortlessly disappointed. As described earlier, many cost-cutting measures taken in Chromebook 4+ are reasonable, but TN panels' use is not one of them.
When it comes to ports and speakers, thankfully, Samsung did not take anything away. Chromebook 4+ offers all the normally expected items for connectivity and sound. A USB Type-C port is available on both sides and can be used for charging, display output, and data transfer. A USB Type-A port, a headphone jack, and a microSD card slot are included in the package. Similarly, the speakers incorporated in this device are among the roundest speakers you will ever hear on a Chromebook. Unsurprisingly, this significantly improves the quality of watching videos and playing games.
Performance Specs
Now, let us move on to the performance specifications of the Samsung Chromebook 4+. Here is the point where this review will seem to move towards a more positive version of itself. As we discussed at the start, this Chromebook is surprisingly efficient when performing smoothly under high loads. With the Intel Celeron N4000 processor, 64 GBs of eMMC storage, and 4GBs of RAM, this laptop can deliver most of the things you expect it to. To let the readers know, it also comes with two more variants with 32 and 128 GBs of eMMC storage. In terms of its performance specs, this Chromebook is quite extraordinary compared with a number of its competitors that were also released in 2020. If you read the data coming out of the tests performed for analyzing the performance of this Chromebook, you will get to see a lot of positive reviews.
When we consider the processor being used in this laptop, there is definitely an element of surprise that reveals that N4000 is capable of doing everything a regular user demands. It not only provides a satisfactory response but can also exceed your expectations more often than not. Even if you intend to use this setup with an external monitor, it will not lag. There is a decent amount of data that exhibit reasonable performance with a 3440 x 1440 monitor. When it comes to computing capabilities, you can really treat this Chromebook as any high-end counterpart currently in the market. Even when compared with some Windows laptops, you can easily conclude that the drop-off in speed is not proportionate with the price. Samsung Chromebook 4+ is available at half the price of laptops that offer comparable performance. This point serves as one of the most important selling points of this device.
When remarking on the performance of Chromebook 4+, it would be wise to look at a statement issued by one of the Samsung employees. Senior Vice President and General Manager at Samsung Electronics America, Alanna Cotton, exclaimed that this Chromebook is a testament to what can be achieved when the manufacturer is focused on pushing the boundaries of convenience and value for computers. Other than a conventional discussion of RAM and ROM capacities, when you turn your heads towards connectivity options, you will find this Chromebook to be fairly practical. Both gigabit Wi-Fi 5 and Bluetooth 4.0 are available and will certainly provide an enhanced experience when you look to settle the tasks at hand as quickly as possible.
Battery Life
Samsung Chromebook 4+ offers an estimated lifetime of 10.5 hours. Just to let you know, this time is rather impressive for a laptop having a 15.6-inch display. As regular users would already know, Chromebooks are known to have outstanding battery lives. This is a feature that is common in almost all Chromebooks manufactured to date. Chromebook 4+ only serves to reaffirm this prevalent belief.
Here, you will have to note that you may not achieve this promised time exactly. However, you will absolutely come very close to it regardless of what you use your Chromebook for. Achieving such high performance while maintaining a smooth user experience in terms of battery life is truly praiseworthy. With USB Type-C charging, you can also expect the battery to be recharged within a short period of time, even when fully exhausted. Having a reliable and high-performance battery source enables you to use Chromebook 4+ throughout your working hours without any need to recharge it in between.
Final Verdict
Let us wrap things up for Chromebook 4+. Considering its retail price, It surely is one of the best performing laptops out there. A few years ago, the word Chromebook would strike an image of a low-performance device that would lag most of the time. However, with the introduction of models like the one we just reviewed, it has become rather clear that gone are the days when a Chromebook could not be used to execute anything but uncomplicated tasks.
Incorporating efficient processors has enabled Chromebook manufacturers to take their devices on to the next level. Samsung Chromebook 4+ is a perfect example. It gets the job done and does so with a much lower price tag than others. This makes it a perfect choice for a large pool of people looking for something exactly like this.