Lenovo exactly knows how to stir up the Chrome OS industry with devices that can't be beaten in terms of value for money. For instance, the Chromebook Duet is a pocket-friendly Chromebook—costing somewhere around $250—that packs a good number of features for an insanely good price. With the bar set so high, the Lenovo Flex 5 Chromebook is another attempt in the same domain to startle the competition, but we'll be the judge of how far that really stretches.
In this Chromebook review, we'll discuss the major aspects of the Lenovo Flex 5 and see how they measure up in general. Moreover, we'll highlight the pros and cons of this device to help you decide to buy this device more clear-cut. That said, let's dive straight in with the technical specifications.
Lenovo Flex 5 Chromebook Specs
CPU: Intel Celeron i3 Dual-Core Processor
Display: 13.3" FHD (1920 x 1080) IPS Display
Hard Drive Size: 64 GB
RAM: 4 GB
Camera: 720p HD Webcam
Ports: 2x USB-C, USB-A, 3.5 mm Headphone Jack, microSD Card Reader Slot
Weight: 2.97 pounds
Price: $409.99
Lenovo Flex 5 Chromebook In-depth Review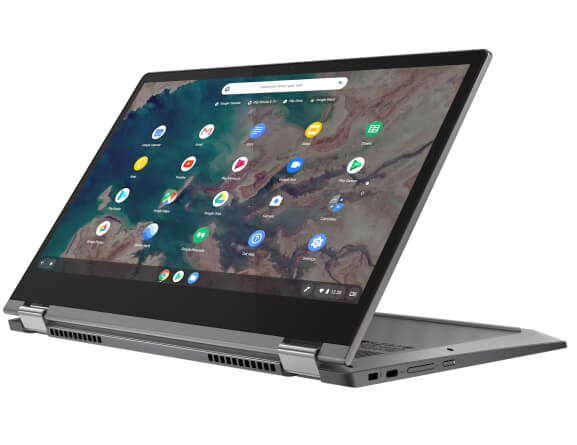 Design
We're finding it hard to pinpoint a facet, to begin with on this device. The Lenovo Flex 5 is just a great Chromebook right off the bat. The moment you start unboxing, it marks the starting point of this machine's splendor. It comprises remarkable build quality and sports an aluminum top and bottom. Sure, this Chromebook's design might not be the most eye-catching out there and may come off as a bit non-descript, but do not let that minor hiccup fool you about what is otherwise a brilliant Chromebook. Picking it up and just holding it, one can easily tell how compact this device is and how well it's just been put together. The color—Graphite Grey—also looks quite nice, but that is the least impressive part of the Flex 5.
To talk in terms of portability, the device weighs about 2.97 pounds and is 17mm thick. That isn't feather-like, but in fact, just a little more than Asus Flip C436. However, it's still pretty portable, and you can carry it around with you everywhere with comfort, taking into consideration its boxy design. Next up, we have the screen to shed some light on, and this is where this device begins to adopt features of an $800 Chromebook. We're talking about a 1080p 16:9 13.3″ FHD LCD panel with an IPS display that entails rich, punchy colors with terrific viewing angles. Overall, the screen looks very nice and is definitely one of this device's main plus points. Most other Chromebooks falling in the same price category have washed-out colors that scream cheapness. The Flex 5 being, on the contrary, that is certainly not the case here.
We almost forgot to mention the 2-in-1 convertible touchscreen design of this Chromebook that allows it to sport multiple viewing modes. Lenovo is one of the pioneers of 360° rotatable Chrome OS screens, so it's no surprise that they're going to ace this section every time they go and make a Chromebook. Moving on, there's also USI stylus support for the Flex 5, but you'll have to find and buy a pen separately. Above the screen is a 720p webcam with decent quality, but not too good, of course. What's a pleasant surprise here, however, is a built-in privacy cover right beside the webcam that you can slide right across to cover your camera. Most people resort to substandard workarounds on their devices, but you've got a proper component for that here with this Chromebook.
We cannot stop admiring the backlit keyboard of the Flex 5 – it's pure bliss. First things first, however, the keyboard deck itself is made of plastic, but that cannot undermine the quality that Lenovo has packed here. We're talking about an absolute A-grade keyboard with extra key travel and more clickiness than your average ones. It feels sensational to type on, especially for long bouts of typing. We might even dare say that this Chromebook's keyboard is on par, or perhaps, better, than Google Pixelbook Go's as well, and that says a lot.
Right below the fantastic keyboard is a mylar trackpad, as Lenovo likes to brand it. It's fluid and responsive and also resistant to smudges and grease. Moving on, the I/O of the Flex 5 is also admirable. We have two USB-C ports on either side coupled with a single USB-A port for a bit of a traditional touch. Of course, now, the manufacturer cannot forget the 3.5 mm headphone jack and a micro SD card reader slot, can it? We can also observe front-firing speakers that throw good-quality sound right up at your face when you're lying down and the Chromebook is sitting on your lap.
Performance
By now, we had to triple-check the price of this Chromebook to see if we were missing an extra zero or something. Truth be told upfront, you're going to get phenomenal performance out of the Lenovo Flex 5. One can rock the Linux Terminal on it, download and install a dozen Google Play Store apps, or go cray-cray with 20 Chrome tabs, but the device won't slow down, period. It's built with a 10th Gen Intel i3 processor with 4 GBs of RAM that caters to lightning-fast browsing speeds. Also, since the device uses the Chrome operating system, you cannot expect anything heavy-duty from it, but the fact of the matter is that the Flex 5 goes beyond expectations, and that's that. Multiple users have said that video editing software and other programming tools run just fine on this Chromebook. The Flex 5 loves getting pushed.
There were 3 other models planned for the Lenovo Flex 5, including an 8 GB one with 128 GB of storage and an i5 Intel processor. That seemed to be short-lived since the manufacturer has discontinued this device, but you can still find this particular model from third-party retailers online. Besides, the other two downsized versions of this Chromebook comprise a $50 gap between them and this one, so there really isn't a point buying any of those when you can get Flex 5 in question.
What's more, is that there's also Wi-Fi 6 and Bluetooth 5.0 emboldened in this device. This may not prove fruitful instantly with your purchase, but it undeniably yields long-term benefits down the road. Over time, Wi-Fi 6 will become commonplace, and ordinary routers will be replaced by ones that offer extended support. At that time, your trusty Flex 5 will make you its proud owner if all the other glamor isn't enough for you.
Battery Life
If you came to this section looking for something negative about this Chromebook finally, we're pleased to inform you that you're out of luck. In terms of battery life as well, the Flex 5 shines. Expect it to last you a full day of work, with typical use spanning anywhere between 8-12 hours. Of course, the battery depends on how you use your device, but rest assured that you won't be disappointed if you're thinking of buying this Chromebook.
Due to the courtesy of a USB-C charging port, the device charges up quickly too. 10 minutes of charging can give you about 2-4 hours of use, while a full-charge will only take about 30-50 minutes of your time. There's just nothing to hate and everything to love about this Chromebook, bar none.
Final Verdict
It's safe to say that Lenovo is well on its way to disrupt the whole Chromebook market with the exceptional entry of the Flex 5. The way that they've blended value and price is mind-boggling. To anyone out there, this Chromebook is a hard-and-fast recommendation all day, every day! When your device costs somewhere around $400 but easily competes with those costing $700-800, you can't help but overlook a few things. Save for an okay design; that is exactly why this machine is one of the best Chromebooks out there.