With top guns like the Acer's 715 Chromebook, we involve ourselves with a premium-level product. However, somewhere along those lines, we also have highly intriguing budget-range options from the Taiwanese giant to heed attention to, and this is exactly where the Acer Chromebook Spin 311 comes in. It's deemed very affordably, and first impressions look promising for a pocket-friendly Chrome OS but is that truly the case with this device.
Donning a price tag of $250, let us review whether the Spin 311 is worth our time and money. Acer has yet to disappoint in terms of quality and value for money, so we have our fingers crossed for this rosy specimen.
In this article, we'll aim to review the Acer Chromebook Spin 311 and discuss its key features in general. Continue reading for an in-depth discussion.
Acer Chromebook Spin 311 Specs
CPU: Dual-Core Intel Celeron N4000
Display: 11.6″ HD IPS Display
Hard Drive Size: 32 GB
RAM: 4 GB
Camera: 720p HD Webcam
Ports: x2 USB-C, x2 3.1 USB-A, microSD Card Reader, 3.5 mm Headphone Jack
Weight: 2.6 pounds
Price: $250
Acer Chromebook Spin 311 Detailed Review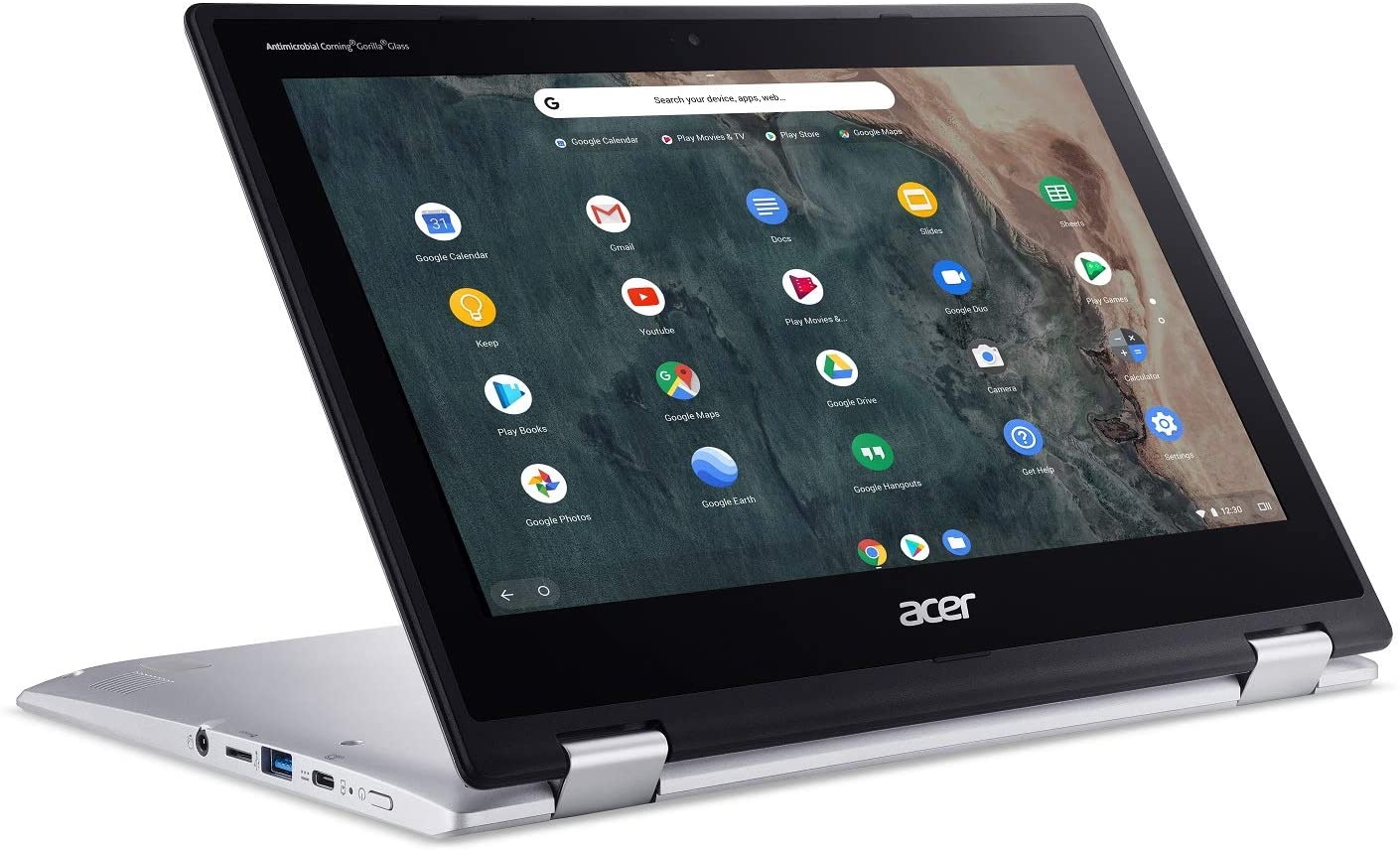 Design
Right off the bat, the Spin 311 looks and feels like a study piece of tech. The body is made out of plastic, but the silver chassis's build seems something of reasonable quality. The overall stature is compact, and there's little to no flimsiness when you're handling this Chromebook. Moreover, the contrast here with the plastic silver chassis is sported by black, snappy keyboard keys and the black bezels that form the screen of the device.
To talk about the screen, the 311 doesn't really hit home. We're talking about an 11.6-inch IPS HD (1366 x 768) display that isn't entirely full-HD. You can notice significant imperfections when you're sitting too close to the screen but can work with it just fine if you're not looking for a stellar display in a Chromebook, especially one in the budget range. Beware, though; some users have also complained that even in less intense sunlight, the screen still appears dim no matter if you pump the brightness to the maximum limit. Furthermore, for a modern-day Chromebook, the 311 is built with large bezels above and below the screen. This diminishes all hope of a nano-edge display like what the competition has to offer these days, but if you look at the price tag of the Spin 311, you can't help but let these couple of downsides slide.
Quite possibly, one of the biggest selling points of this dandy Chromebook is its 2-in-1 design that does a great job of providing convenience and versatility. It offers a highly responsive touchscreen for making the best Android games and the Google Play Store's diverse apps for starters. Furthermore, the screen is 360° rotatable, and this means that you can rock this Chromebook in several viewing modes. You can either ameliorate your viewing experience by shifting to the tablet mode or switch things up with the keenly amusing tent mode. Either way, slapping this form of practicality on this device is truly a sight for sore eyes.
Next, the I/O on this device is fairly decent. We have x2 USB-C ports on either side that you can use for charging your Chromebook and transferring data at lightning-fast speeds. Moreover, there are also x2 Type-A USB 3.1 ports for regular use day in day out. There's also the MicroSD card reader slot for extra storage and, of course, the 3.5mm headphone jack. The 311 also sports bottom-firing speakers rise to a reasonable amount of volume.
Moving on to this device's portability, the Spin 311 does extremely well. It's quite lightweight—weighing about 2.6 pounds—and is simply perfect for using on the go. It fits nicely in backpacks and will accompany you on every trip you take without a worry.
This Chromebook's keyboard feels responsive, too, just like the touchscreen. The keys aren't as good as the Pixelbook Go's "Hush" keys, but they'll do for this pocket-friendly proponent. The trackpad also feels as if it was built with care and attention. It feels smooth, accurately tracks your inputs, and provides strict feedback to clicks, and the company has labeled it to be "moisture resistance."
Last but not least, the 311 boasts a fanless design. Therefore, it remains completely silent and sits noise-free on your worktable.
Performance Specs
The Acer Spin 311 is capable of running your daily hustle comfortably. Being a Chromebook, it boots up pretty fast, taking just about 9-10 seconds, and basic internet browsing feels swift. It uses a dual-core Intel Celeron processor, and while that may not be insanely powerful, it will satisfy you to a reasonable extent. The 311 can handle more than 12 Chrome tabs, but anything beyond that, and you're asking for unmitigated trouble.
Also, you've got 4 GB RAM to accommodate you on your internet surfing adventures. However, right alongside that is a point many would raise objections on – a meager 32 GB eMMC flash storage. It would've been fit for us to see a 64 GB hard drive alongside 4 GB RAM, but Acer had other plans in mind. This particular Chromebook has multiple models to its name. Significant changes range from ARM processors to 64 GB hard drives. However, those will cost more, and the particular 64 GB one is priced at about $330. If the upgrades interest you, it's best practice to look more into them. Don't forget that you'll have to pay extra afterward.
Coming back to our original model, don't expect uncanny performance from a sub $250 device. It will get you from point A to B fast but can't sport anything heavy-duty. The Chromebook features Bluetooth 5.0, which gives better speeds and more range.
Battery Life
To talk about the battery life, we were expecting better results. Although it was affirmed that the Spin 311 would accommodate 10 hours of battery life, we could only get 8 hours out of it. This is still a good figure, but still unusual of a Chromebook that doesn't feature a phenomenal display.
Nevertheless, it does charge up pretty quickly – giving you 5 hours of usage on a mere 30-minute charge. A full charge may take somewhere around 40-50 minutes, more or less.
Final Verdict
In conclusion, we've found the Acer Spin 311 to be quite satisfactory, and there's no doubt about that. The specs might be mediocre, but the overall package seems very understandable. If you're looking for a Chromebook that won't break the bank, handle your daily tasks for you, and feel good when you use it, the 311 is a good option.