Some farewells are pretty difficult, especially if you're saying goodbye to mesmerizingly beginner-friendly, fast, and convenient music streaming application that has serviced you for 9 long years. That's right. We're talking about the relatively recent shutdown of Google Play Music, which was pioneered in 2011 and pulled the plug in December 2020.
The fall of the famous music streamer left fans and consistent users in awe as we rarely come across an application that becomes second nature to use in our daily lives. However, as it is with everything in the world, life goes on, and there's nothing we can do about it. 
Well, except for one thing. The loss of Play Music has left many wondering what application to pick up now instead of it. It's not like there are waves of Google Play Music substitutes sitting around, waiting for you to put your hands on them.
That is why we have decided to put together this article for the best alternatives of the now-discontinued music streaming software for you to pick up and keep living life in the fast lane. 
Let's dive right into this guide without any further ado. 
YouTube Music – the most obvious alternative to Google Play Music
When Google Play Music was made to bite the dust, Google pushed YouTube Music to be the front in line for the best alternative to the latter. Try visiting the once-active Play Music website and see the response you get for yourself.
This wasn't done in vain as Youtube has implemented hefty efforts to reinvigorate its music streaming service and make it stand out from the rest of the competition—just like Google Play Music did. 
Youtube Music has been made quite capable with all the improvements, tweaks, and feature additions it has received over the years. Today, it boasts over 1 billion downloads on the Google Play Store and unrivaled worldwide popularity. 
The winning formula, of course, is borrowed from the already-established parent website, which is YouTube. Combine that with an expansive library, the ability to function offline, and live performance coverages, and you're pretty much getting a full-fledged streaming service that takes no prisoners. 
We've given the application a good run, and we cannot be any more surprised. It dons an outclass graphical user interface with multiple features to brag about. You'll find lyric videos on it along with official releases and unofficial works as well.
Furthermore, one functionality of YouTube Music has piqued our interest the most. Its "Search" tool is way ahead of the game compared to its current rivals.
If you've forgotten a key detail and want to remember something specific, throw in whatever you remember in the "Search" bar, and YouTube Music will bring up the closest-seeming matches right to you. 
Try doing this on Spotify, SoundCloud, or even Apple Music, and you'll be severely disappointed. YouTube Music might be a new player in this industry, but it's doing everything right and promising no less than a lustrous future.
Of course, one can easily assume that this functionality is borrowed from the famous YouTube algorithm that manages to do the same more or less. The successful precursor is bound to weigh in from time to time, and we're happy to acknowledge that.
YouTube Music also features subscription plans for power users looking for a next-level music streaming experience. To sum those plans up, there's the base ad-promoted version of YouTube Music that anyone can use just by signing into their Google account. 
Next, there's YouTube Premium, bringing multiple desirable features to the table, such as high audio quality that carries a 256 kbps AAC bit rate, offline listening, the ability to play music in the background, and a dedicated audio-only mode that switches off the video of tracks and only focuses on the music. It costs $10 per month. 
Lastly, there's YouTube Premium which was formerly known as YouTube Red. This plan includes YouTube Music Premium and provides you with more functionality when using the main YouTube application with tens of millions of videos. This one will set you back for about $12 each month.   
Let's further the article and talk about how you can use YouTube Music on your Chromebook and other devices. 
How to use Youtube Music on Chromebook 
The developers made sure to introduce Youtube Music on multiple platforms and make life easier without Google Play Music being in the picture anymore. It's available on the Google Play Store, App Store, Android TV, Google Nest, and even Sonos, one of the world's best companies for smart wireless speakers. 
Now that you have a basic idea of YouTube Music's reach on the wide interweb let's take a closer look at how one can use it on a Chromebook. 
Option #1. Using YouTube Music as a web app
Youtube Music is also available as a web application used on any device, whether it's a Windows PC, a Macbook, or a Chromebook. Heck, you can even use your Android's Google Chrome or any other browser to run the music streamer that way. 
All you need to do to get started is head over to the web app online, sign in with your Google account, and begin listening to music right away. The following steps will cover this whole procedure in a step-by-step fashion. 
The first step is to open the YouTube Premium web application on your browser. You can use this direct link to do that quickly. 
Once you're there, you'll have to log in to the service by clicking on the "Sign In" button in the top-right corner. Doing so should take you to a different screen where you will enter your log-in credentials and proceed to sign in to YouTube Music. The following screenshot depicts the button that you have to click on. 
Tip: If you're using a Chromebook, you're going to see yourself signed in already as soon as you launch the YouTube Music web application. It's just one of the many benefits of residing in the Google ecosystem. 
 3. Now that you're signed into the platform feel free to discover awesome music and don't hesitate to try out the recommendations of the YouTube algorithm. You never know when you'll find your next favorite song. Based on your earlier searches on YouTube, if you've been busy listening to music on it before YouTube Music, you'll be given different audio track categories to play around with. Some of these will include Quick Picks, Charts, Mixed for you, From the community, Recommended playlists, Live performances, and New releases. 
Since YouTube Music falls under Progressive Web Apps (PWAs) category, you can also add a shortcut icon for it to your Chromebook Launcher. This will make it easier for you to get to the music streamer more conveniently. To do this, go to the desktop client of YouTube Music, click on the three vertical dots that symbolize "Customize and control Google Chrome," choose "More tools," and then select "Create shortcut." 
This will make a prompt appear at the top of the screen where the system will ask you to confirm the shortcut creation. Next, check the "Open as window" box and finalize the process by clicking "Create." That should set up a separate web app icon in your Launcher for YouTube Music. The following is a screenshot of the application that we've recently created a shortcut using the process detailed above. 
That's about it for the first method of using YouTube Music on a Chromebook. Keep in mind that this method, including the latter section where we're setting up a shortcut icon for the PWA, is applicable on every device that can connect to the internet and browse the web. So it isn't explicitly limited to Chrome OS only. 
Let us now go over one crucial feature of YouTube Music that allows it to be the perfect Google Play Music replacement out there. 
YouTube Music upload feature
One of Google Play Music's most well-admired features was to upload songs to its directory from your local storage and listen to them painlessly on the platform. That way, you would have all of your music in one place, apart from the giant catalog of Play Music's songs. The total limit of the songs you could upload to Google Play Music was 50,000, with each song being no more than 300 MB in size. 
On the other hand, YouTube Music lets you upload 100,000 songs and enjoy them in a separately defined section called "Uploads." It's pretty easy to do this through the YouTube Music web application, so let's dive right into that and find out how. 
The first thing you're going to do is sign into the YouTube Music web app. Once you're there, click on your profile photo. Doing so should reveal a bunch of options on the screen for you.
To get to the next step, you will have to click on "Upload music," as shown in the screenshot below.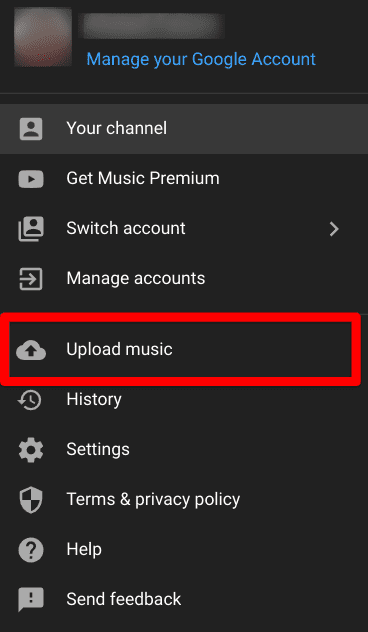 After clicking on "Upload music," the local storage of your Chromebook is going to pop up. Select the music you want to upload and double-click on it to continue. For reference purposes, we will choose Deep End in the screenshot below. 
Note that you can select as many songs as you'd like in this step. YouTube Music will process them accordingly.
After selecting the song of your preference, uploading to YouTube Music will commence. This can take a while, depending on the number of songs you choose. You will also receive a small-scale prompt near the bottom of the YouTube Music interface describing that the upload is in process. Once finished, go to your "Library" and find the music sitting there. 
You're free to repeat the process until you've uploaded all the songs that you want to. This is one of the best features that the developers have implemented in YouTube Music, so power users of Play Music don't feel alienated. With that said, there are a couple of things that separate the two and make Play Music more worth using, but since the application is gone now, we'll have to work with YouTube Music, which is quite the perfect replacement for the latter. 
Option #2. Installing YouTube Music from the Google Play Store
The second method that you can use to install YouTube Music can be used exclusively for Chromebooks and other Android devices, such as mobile phones. The major incentive that comes with opting for this option is integrating YouTube Music with local files and getting all of your audio tracks on the music streaming application. That way, you're signing up for a brilliant platform that can streamline music streaming on your end. 
However, you do not have to shoot for this option necessarily. It ultimately boils down to your requirements, so we recommend trying both of them out to see which one suits you the best. If you do not have any music stored on your Chromebook, the first method can pay off better in terms of optimization. 
While we'll leave you to decide which edition of YouTube Music you'll go for on your device, let's pen down the tutorial now for installing the latter from the Google Play Store. 
The first step in downloading any application from the Google Play Store is to launch the Play Store itself. Do that using the Chromebook Launcher section or from the shelf area of the Chrome OS interface if you have it pinned there and get to the next step.
2. Once you have fired up the Play Store on your Chromebook, use its search bar located at the top of the app's interface and type in "YouTube Music." You will get multiple suggestions during this process, but pressing the "Enter" key will do just fine for your cause. 
3. After pressing the "Enter" key, you'll be taken straight to the official app page of YouTube Music. A vividly apparent "Install" button will be available here. Click on it to begin the download. The app's file size isn't that huge—just about 19 MB—so you'll be able to use YouTube Music in no time now. 
4. Once you have been notified that the application was successfully installed, go to your Chromebook Launcher and find the YouTube Music app icon there. Click on it and join in on the fun. 
That's all about installing YouTube music from the Google Play Store. It's time to give it a run and see how it performs on Chrome OS. 
YouTube Music working
As soon as you launch YouTube Music on your Chromebook, you're going to be greeted with an invitation to try YouTube Music Premium, which, as iterated earlier, is a subscription plan that allows potential users to get a taste of a ton of additional features. These include ad-free music streaming, the ability to keep the music playing even in the background, higher audio quality, and even offline downloads. You can choose to purchase the different YouTube Music Premium plans as shown below or choose to click on the "X" mark in the top-right corner to proceed.  
Once you get through, you'll be taken to the main graphical user interface of YouTube Music. This is where you're free to explore artists, their work, and a wide variety of audio tracks, all within a beautifully crafted environment. The first section is "Home," which is basically where the application strives to deliver the user experience you want. It comprises multiple sections here, some of which you can already see in the screenshot below, for categorizing music videos according to specific elements.  
For instance, the "Recommended music videos" tab draws assumptions based on what you have already searched for and played on YouTube using your account and tries to match music video suggestions by that. You'll find a lot to check out here, so do take some time to delve into the many offerings that YouTube Music has for you. 
However, to genuinely explore the different types of audio YouTube Music has for you, the "Explore" section needs to be tended to. This area is loaded to the brim with several sections dedicated to letting you know what music is trending these days and which artist is thriving. It also tracks new releases by artists, whether they are singles or full-blown albums.
You're also free to view the "Charts" feature in "Explore" that demographically shows you all hit tracks that are currently on their way to the moon. Newly released music videos by artists also have a separate place allotted in this section, should you want to check that out.
The "Explore" feature is hands-down one of the most impressive ones we've seen so far in the entirety of music streaming applications. Sure, Spotify has it too, but since we're looking at a music streaming application integrated with YouTube, which is an established platform all in itself, there's just no beating YouTube Music in terms of exploration. 
What's more, is that you'll also find view counts below the entries listed here, so you can know right from the get-go what it is that people are listening to the most. Lastly, you'll even find a vast array of genres here, ranging from Chill, Commute, Energy Boosters to Romance, Blues, and even Black Lives Matter. Again, there's just no seeming end to what you can find in the "Explore" section of YouTube Music.
Lastly, we've got the "Library" section that you can click on at the bottom of the app's interface to get into. This is where you'll be integrating your Chromebook's local storage to YouTube Music and getting all of your downloaded music onto the platform. Not only will this make things a lot easier for you, but you'll also be to group your audio tracks into playlists.
In addition, if you ever happen to purchase any of the premium plans of YouTube Music, you'll be given the functionality to download songs for offline use. It will be the "Library" section within the application where your downloaded songs will be stored in. Whenever you do so, they will be grouped according to different categories for easier playability. The categories include Albums, Artists, and Songs.   
That's our full guide to using YouTube Music on Chrome OS, which should serve as your go-to alternative for the now-defunct Google Play Music. We've covered almost everything there is to know about this application from a beginner's point of view, so you should be good to go with it. 
However, to broaden our horizons a little bit, there are several other music streaming applications out and about that many people, but not all of them are fit to serve as a worthy alternative to Google Play Music. That said, that doesn't mean that there aren't any. 
We've managed to round up two of the best alternatives to Google Play Music apart from YouTube Music that you might want to consider looking into.  
Other noteworthy alternatives to Google Play Music
Although it's nothing but superb, YouTube Music isn't exactly the end of the line for working alternatives to Google Play Music. We've got many other options lined up for you below that will guarantee an equal, if not holistically better, music streaming experience on the fly. 
Let's check them out straight away. 
Spotify 
There's no doubt about the efficacy and speed of Spotify that puts it right at the top of all the music streaming applications in the world. It originated in July 2011, which was even before the birth of Google Play Music. With constant updates and an assortment of improvements over time, Spotify is no less than an empire now where artists and creators from all over the world come and express their ability in the words of music.
The platform features more than 70 million tracks to experience and explore. Out of that figure, about 3.2 million podcasts are also up for listening, should you want to take an interest down that line. High-ranking singers and rappers like Ed Sheeran, The Weeknd, Tones and I, Ariana Grande, and Drake are prevalent, and their music runs wild on Spotify. 
The best part is that you can download Spotify in various ways if you're looking toward a Google Play Music replacement for your Chromebook. Thanks to the integration of Linux, the availability of the Google Play Store, and Spotify's presence on the internet as a web app, there are three different methods to get the music streaming app to run on Chrome OS. 
We've outlined them all and went in-depth in each one in our Spotify guide article here. Be sure to check that out for a step-by-step tutorial on using the famous app to full-on your trusty Chromebook.
Undoubtedly, Spotify is loaded from head to toe with features, but the reason we've put it here and not up there instead of YouTube Music is its pricing scheme. The service isn't free to use for the most part, although you can play local music on it without paying anything.
On a side note, Spotify happens to be one of the top 20 Google Play Store applications that you can download and experience on your Chromebook today. Click here to find out the rest of the high rollers.  
SoundCloud 
On the other hand, we have another stellar contender with a massive catalog of tasks. You'll find more than a whopping 265 million audio tracks on SoundCloud, which launched in 2007. If you recall the section above, this is even before the dawn of Spotify.
This makes the former one of the oldest players in the game, and as far as this industry is concerned, experience matters a lot. As of 2021, SoundCloud has over 76 million active users, and that number is growing exponentially as we near the middle of January 2022.
Similar to Spotify, the application has more than a billion downloads on the Google Play Store, and this on its own speaks volumes about SoundCloud's popularity. The developers have made a separate, more specifically optimized edition of SoundCloud and released it on the Google Play Store. 
We've talked about its installation and essential features in one of our guide articles here, so do check that out if you want to get a taste of SoundCloud on your Chromebook. As for its pricing structure, the platform does offer a purchasable premium version, but you can still browse play every audio track you see on SoundCloud using its free version.
Conclusion
While the termination of Google Play Music from the face of the internet has left a heavy dent in the hearts of its fans, it doesn't quite mean that it's the end of the world for music streaming applications. There are quite the options for casual and power users alike on various platforms that Chromebook owners can opt for today. You need the right know-how, which we've already gone over above.
Therefore, in this article, we've talked about the best Google Play Music alternatives that pack tons of functionality for you to enjoy. We're sure that you're going to find them making the cut, especially YouTube Music that combines the depth and expertise of YouTube with itself and caters to users right from the get-go. Give each listed application a shot to pinpoint the best option for yourself. Chrome Ready wishes you good luck!