Gaming is becoming a sought-after feature on Chromebooks, especially since the developers decided to bring official Steam support to ChromeOS. Today, these sleek and clean devices stand tall as reliable machines to play some of the best video games, comprising Fallout 4, Streets of Rage 4, and even the recently released Remnant 2.
However, if Amazon games interest you the most, such as Lost Ark, and a deluge of other free titles with an Amazon Luna subscription—a cloud gaming subscription service—we've got you covered. This article will cover everything you need to know about enjoying some of the best offerings of Amazon on ChromeOS.
In the meantime, though, we advise checking out our guide on how to play Need for Speed Hot Pursuit Remastered on your Chromebook.
Playing Amazon games on a Chromebook
Amazon, one of the world's most prominent tech companies, has a hand in most technological advances across the board right now, whether entertainment streaming via Amazon Prime Video or mobile app installation through Amazon Appstore. Being the parent organization of Twitch, Amazon hasn't left gaming out of its portfolio either.
This is to the point where this esteemed establishment has developed a specific division for the craft called Amazon Games, which falls under the domain of Prime Gaming. Amazon Games is a video games launcher application fueled by a Prime subscription, just like Steam. Still, unfortunately, it's only available to download and install on Windows PCs at the moment.
Not to worry, though, since installing the particular storefront slash launcher isn't the only way to play the best Amazon games out there. ChromeOS has several other ways to get around the complication, and the following subsections should explain how. Do read until the end diligently for the best results.
Option #1. Playing Lost Ark via Steam alpha or Nvidia GeForce Now
To talk about enjoying some of the best Amazon games in the business and not putting the focus on Lost Ark would be simply unfair to what the company has done with this MMO (Massively Multiplayer Online game). Developed by Tripod Studio and Smilegate Games while being published by Amazon Games, Lost Ark is something you don't want to miss out on.
It's an RPG with a strong emphasis on the Player vs. Environment setting, which is generally regarded as PvE in gaming terms while making the player make strides in exploring the area around them. In Lost Ark, you go up against other players while trying to survive and get to the end of the day.
Lost Ark's best highlights
Here is a comprehensive look at the game's most prominent features so you can know what to expect going forward.
Free to play
What is perhaps the biggest surprise that comes with Lost Ark is its free-to-play business model. That's right. You don't need to shell out a dime to get started with the MMORPG, and one of the reasons this game has been received well by critics and players is that it's 100% free.
This is unlike other titles that advertise themselves as free but are instead riddled with microtransactions and pay-to-play mechanics. Destiny 2 is a fitting example of this scenario. Lost Ark, on the other hand, does not lock any content behind a paywall and lets you relish the title's core fundamentals without purchasing in-game items.
Although, of course, if you manage to spend money on Lost Ark, you receive a massive gameplay boost that increases your experience level faster. There are clear advantages to purchasing stuff that will rush your progress, but the point still stands—you don't necessarily have to do any of that to get the best out of the game.
Intense, satisfying combat
Lost Ark has been praised for its amazingly satisfying combat, where each registered strike feels great to follow through with, and somewhere along those lines, you just get hooked to the gameplay flat-out. Moreover, the game puts you against hordes of enemies while placing you in a position of power with overly potent characters to play with.
That is to say, the sheer capacity of special abilities associated with each playable character offers a unique taste of what's possible in Lost Ark as you go along the game fighting ungodly monsters and creatures of death. In addition, the MMORPG lets you "define" the way you fight, exhibiting flexibility in character customization and skills usage. More on this in a bit.
Exploration-based
Lost Ark features a tremendous in-game world called Arkesia that, along with its free-to-play nature, offers insane replayability. Arkesia, just like our planet, sports seven expansive continents to explore and dive into, featuring its terrain, choice of beasts to go up against, characters to interact with, and, of course, varied loot items.
The title takes pride in rewarding exploration, so you should never avoid deviating and taking an off-track path to discover the marvels around you. This whole land the developer has built from scratch is bursting at the seams with secrets, all waiting to be unearthed by the player.
Easy to learn
Another facet of Lost Ark that engages players right from the get-go is that it's easy to get started with. There are no complex mechanics or heavily involved gameplay systems that confuse beginners or anything. Things are simple enough to learn painlessly for newcomers, but that does not mean the title features barebones gameplay.
Lost Ark sports what the developers like to refer to as "unexpected depth and room for customization," which means that genre experts will find the title highly involved in that sense, should they choose to experiment with its entire customization system.
In-depth character customization
Speaking of which, and this is our favorite part about Lost Ark, you won't find a sliver of monotony with the game's in-depth customization mechanics. The game remains constantly updated, and the developers feel inclined to introduce more playable classes, each being extremely modifiable, ranging from pickable abilities and apparel to skills and combat styles.
Some of the other prominent features of Lost Ark that go hand in hand with customization revolve around social systems, where you can interact with the bustling community of the game and delve into crafting to increase your chances of survival. The developers have done a fantastic job with the MMO in question, exhibiting newfound depth and variety to what appears to be a remarkably polished RPG.
Playing Lost Ark through Steam alpha
The way we see it, there are about two different methods that can help you play Lost Ark on your Chromebook, and this is as per our thorough testing. Sure, other more complicated ways exist to accomplish the task at hand, such as installing a virtual machine on ChromeOS and then running Windows 10 on it to play the game through Steam, but that's way too much work.
A similar case is that of Wine, a dedicated program that lets you use Windows apps on a Chromebook, but this, too, is an involved route with an array of different steps to complete. That's why we have to nudge you toward Steam alpha, which is evidently the plainest possible way of playing Lost Ark on a compatible Chromebook—stress on the word "compatible."
It's not like Steam Alpha does not have its own complications, but given our options, it's a perfectly workable way to take things forward. In March 2022, a specifically designed version of Steam for a select number of Chromebooks was announced, making way for one of the world's most popular PC gaming launchers to seep onto the ChromeOS mainframe.
Ever since then, the developers have been trying to make more and more Chromebooks Steam-compatible, and so far, we've got about 20 Chromebooks that now support the functionality. These include the HP Elite Dragonfly Chromebook, Asus Chromebook CX9, Acer Chromebook Spin 713, and Acer Chromebook 516 GE.
Therefore, the first part is determining whether you're using a Chromebook compatible with Steam alpha. Once that's done, the next step is to gauge your configuration. The devs recommend the following specs on compatible devices for smooth operation:
Intel Iris Xe Graphics
11th Gen Core i5 or i7 processors
8 GB RAM minimum
From here on out, we recommend checking out our step-by-step guide on how to get Steam alpha running on a supported device for the best results. The gist of it is that you flip on the developer mode on the Chromebook, input a couple of commands into Crosh—the ChromeOS developer shell—and voila. You should be off to a good start right afterward.
Once you've got Steam alpha up and running, head over to the official Lost Ark Steam page on your Chromebook to claim the game for free. Click on "Play Game," and that should add it to your library in a bit. Do follow the on-screen instructions to finalize the process.
The final step is to head to the "Libary" section within Steam's user interface and start downloading Lost Ark. Wait until the installation wraps up, then click "Play" to begin. All that's left for you to do now is enjoy one of the best Amazon games on your Chromebook.
The method detailed above pertains to Chromebooks compatible with Steam alpha, but what about those that aren't? The following subsection is just for devices that couldn't make the cut.
Playing Lost Ark with Nvidia GeForce Now
Nvidia GeForce Now is one of the world's most popular cloud gaming subscription services, known for its diverse game catalog and the availability of powerful cloud hardware that powers up Chromebooks like never before. It's a region-based product that is only available to use in a select number of countries, such as the US, UK, Georgia, Armenia, Ukraine, and others.
Fortunately, you don't need a specced-out, high-end Chromebook to enjoy all that GeForce Now has to offer, including Lost Ark. You must subscribe to the paid service. Still, a free-to-use version of the cloud gaming product can stream games online in an otherwise limited manner. Feel free to take a moment and determine what works best for you before proceeding.
The next step after deciding on the membership you wish to opt for is to link your Steam account to GeForce Now. This must be done for Lost Ark to be streamed through the cloud. It shouldn't be difficult anyway since all it takes is a couple of taps, and that's it.
As soon as you're on the home page of GeForce Now, proceed by searching for Lost Ark from within your Steam account, and that should start streaming the game right away on your end. Please note that to relish a favorable experience with the cloud gaming service, you must fulfill the following requirements:
15 Mbps for 720p gameplay at 60 FPS.
25Mbps for 1080p gameplay at 60 FPS.
35 Mbps for 1600p gameplay at 120 FPS.
Less than 80 ms latency from an Nvidia data center.
Option #2. Playing the best Amazon games through Amazon Luna
Going through the previous section, this brings us to talk about Amazon Luna—a hotspot where you'll find the most pre-eminent Amazon games to enjoy on a Chromebook. Like GeForce Now, Amazon Luna is another cloud gaming service, but this one's solely dedicated to Amazon games, which is what we're looking for.
The product's subscription is called Luna+, but there's another way that you can use Amazon Luna, which is through Amazon Prime. Remember that you do not get unlimited access to Luna with the latter since only four games go free-to-play for Prime members every month on Luna.
Luna+, on the other hand, is the dedicated membership for the cloud streaming product, setting you back about $9.99 a month and offering a 1080p at 60 FPS visual fidelity. Before you pull your wallet out, though, we recommend going for the service's 7-day free trial to give Luna a test run and decide whether this is something you can work with.
After becoming a member of Luna, click on the "Library" section. Doing so should take you to the growing catalog of Luna's top-class video games, including the likes of Fortnite, a trendy live-service battle royale title, and even Batman: Arkham Knight. Unlike GeForce Now, all of the included titles are free to play, and you do not have to purchase them separately.
That's all there is to playing Amazon games on your Chromebook. It's high time to conclude the article.
But there is an Amazon Appstore APK for Android…
Even though there exists an Amazon Appstore APK for Android devices, it is currently not fully supported for Chromebooks. We attempted to install the APK, but as illustrated in the screenshot below, the app is not optimized for Chromebook. The gameplay is defective and sluggish, typical characteristics of an incompatible app. We anticipate that Amazon will rectify this issue and make the app compatible with ChromeOS in the future. Meanwhile, the aforementioned method is the only way to enjoy Amazon Appstore games on your Chromebook.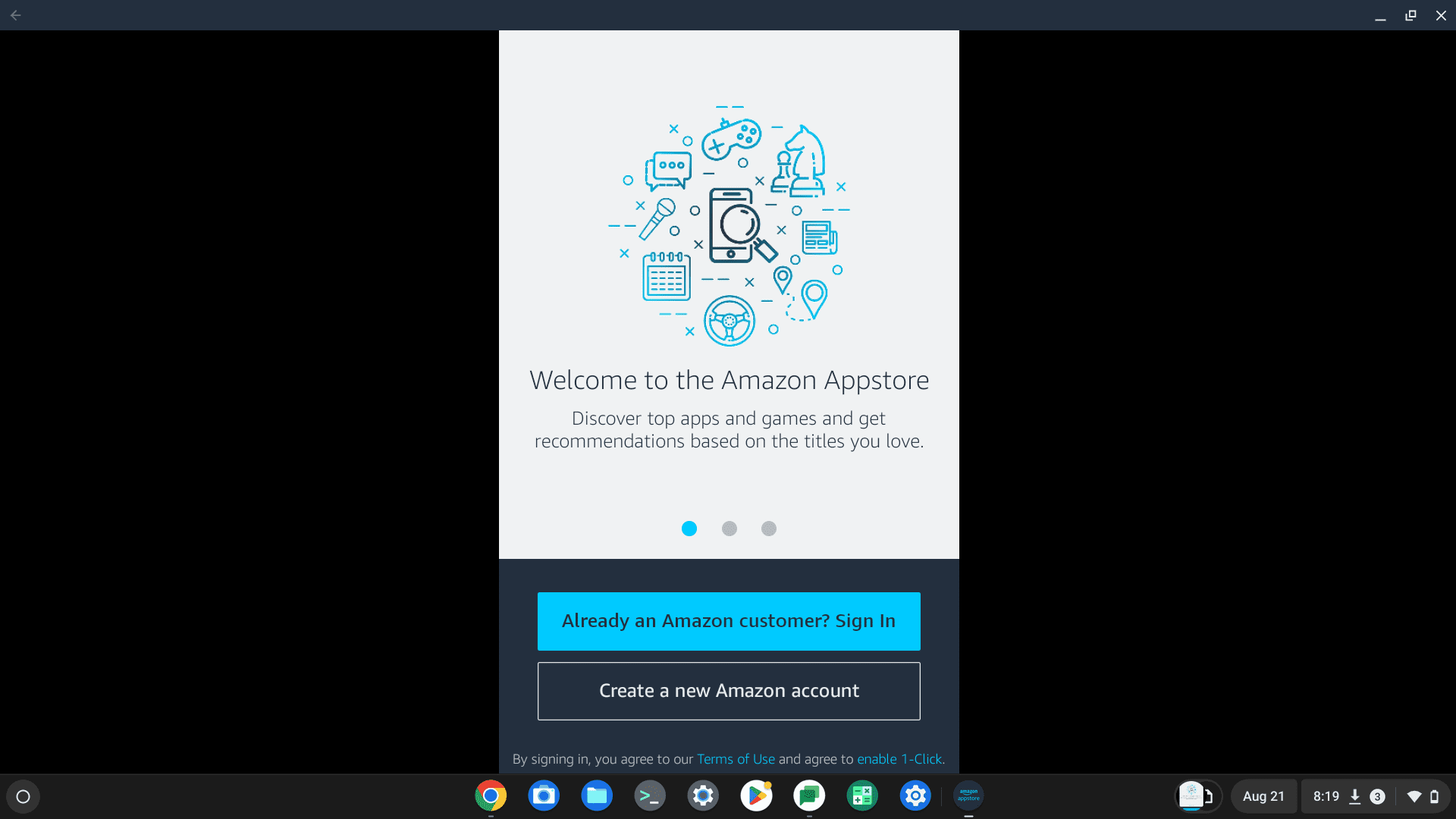 Conclusion
Gaming has remained an exciting construct ever since it dawned on the world. Its gripping nature has extended to Chromebooks, making the best Chromebook manufacturers create and develop gaming-centric Chromebooks, such as the Asus Chromebook Vibe CX34 Flip.
In this guide, we've explored the ins and outs of playing Amazon games on ChromeOS, similar to how we covered how to play the Tomb Raider games on a Chromebook earlier. Do let us know in the comments below whether you found the write-up useful for your cause. Chrome Ready wishes you happy gaming!