Chromebook has seen a wide variety of password managers over the years, but none compare to LastPass, which has built a profound reputation for itself after delivering exceptional quality consistently. To our surprise, the tool's free version is just as good and equally effective as many other password managers' paid variants. Seriously speaking, it's that good.
LastPass redeems itself as immensely easy to use and navigate, with proper outlines for categories attributing to an uncomplicated interface. Also, it brings terrific value to its customers even if they're paying for it. This is because the free version, as mentioned before, packs the majority of the features you'll be needing by prioritizing top of the line security first and foremost.
Features
Let's take a close, hard look at some of the key features that make LastPass the best password manager to use in 2020.
Top-notch Security
LastPass is protected with multiple layers of security, not just a handful of few. You get an executive military-grade encryption that settles for nothing less than excellence. We've been surprised by how the level of security is impressive with LastPass. It's been known to famously secure your data with AES 256-bit encryption, not allowing anything to break free from its firmware barrier.
Moreover, LastPass proudly boasts a zero-knowledge policy. This means that it cannot track, use, or trade your passwords or any other data in your account by any means. Additionally, with through-and-through encryption and decryption on the go, not even the password manager itself can access your passwords. The methodology of securing your data is identical to those used in the military, banks, and corporate businesses.
Diverse Two-factor Authentication
When it comes to two-factor authentication, LastPass presents you with multiple options as per your liking. For instance, it processes security emails that demand permission from users when logging in from a new device. Pretty basic, right? But, here's where LastPass ups the ante. The password manager is compatible with various third-party multi-factor authentication recourses for an extra burst of security. This involves big names such as Google Authenticator, YubiKey, and even Duo Security.
This way, for someone to log into your LastPass account and snatch all your data, they'll first be needing your Master Password, and also a purely unique one-time password generated by one of this multi-factor authentication (MFA) apps.
Autofill, Password Generation, and More
LastPass is prompt and swift with the Autofill feature, amounting to a hassle-free experience at the comfort of just one click. Whenever you're faced with a login page that's demanding a username, email address or a phone number, and a password you've probably already forgotten, fret not, for LastPass remembers the stuff you don't, and actively fills in your credentials for you.
If, for a highly unlikely reason that LastPass hasn't recognized the website you need your login details for, you could always opt for an icon found minutely on the bar to manually select one of the saved passwords.
LastPass's Password Generator is another fail-proof trick up its sleeve that helps you out whenever you're not in the mood of thinking up a strong password on your own. It suggests you a randomly created, very secure password with a mix of letters, special characters, and numbers to form an impenetrable solution. When you're signing up for a new website somewhere, it indicates you to opt for its password generator, getting you something with just one quick click.
That's not all; the Password Generator provides you options to choose what kind of a password you'd like. There is "Easy to Ready," which features no perplexing characters, and "Easy to Read," which negates special characters and numbers. A pretty decent quality if you ask us.
Besides, you get a whole Sharing Center that tells you with whom you've previously shared your passwords, and if they've accepted the share request or not. You also receive a recollection of the passwords that people have shared with you. Furthermore, LastPass has flexible password recovery options that don't involve much trouble if you're the rightful owner. These include a Master Password Hint, One-time Recovery, and SMS Recovery.
Emergency Access and Auto Password Change
In a dire emergency, a trusted contact comes in handy, which you can set beforehand. You can choose anyone for this noble deed, may that be a close friend, sibling, or relative. You can get a waiting period of up to 30 days if necessary, giving you time to reconsider everything. Your trusted contact sends you a request to access your password vault via email, and upon your approval, your person of choice gets full access to all your stored data.
Another remarkable trait that has us in delight is how LastPass periodically advises you to change your passwords and does so itself. This feature supports compatibility for more than 75 websites as of yet, such as Facebook, Twitter, and Instagram, but is coming to more plugins as the days go by. Instead of taking you to the official pages, LastPass opens up a dedicated window to help you change your password automatically, adding a greater sense of security inherently.
Installation
Option 1: Installing as a Chrome Extension
LastPass is user-friendly and comfortably easy to get started with. It comes off as a Chrome extension, and all the magic begins from there.
1) To get started, click on this link. Here's the page you should see after clicking on the link. In the upper right, click on "Add to Chrome" to proceed further.

After you've done that, the Chrome browser will check out the requirements, and that shouldn't take more than a couple of seconds.
2) After all that is set up and good to go, you'll be prompted with a mini window to add the extension to your Chrome browser. Click on "Add extension" to install LastPass successfully.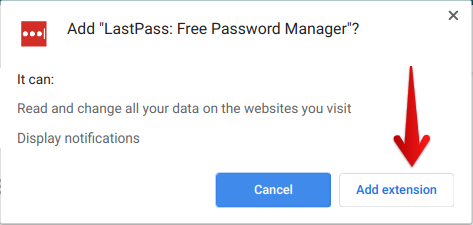 After finally installing the LastPass extension, you'll be redirected to lastpass.com for your account registration and customization. It's only a smooth experience from then on out as you sign up and move along to use LastPass- indeed, the only password manager you'll need.
Option 2: Google Play Store Method
What's a Chromebook any good if it does not utilize the all-powerful Play Store? Fortunately, LastPass is readily available on the computer's very own marketplace and is up for grabs. The following methods explain how you can download and install LastPass easily and without a hassle.
1) Fire up the Play Store and search for LastPass using the search bar allocated at the top.

2) When you hit enter, you should be directed to a screen where you see LastPass available to start downloading on your Chromebook. Click on Install to begin the process.

3) The app's size is about barely 12 MB, so if you've got a good connection, the download should take no more than a couple of minutes. Once that's done and dealt with, LastPass should appear in your Chromebook Launcher, ready to go.

Working – Registering for LastPass
Once you launch LastPass, you're greeted with a welcome screen that prompts you to either sign in using existing login credentials or sign up and register if you're new.
1) Click on Create My Account after entering your email address to get started, as LastPass suggests in the screenshot below.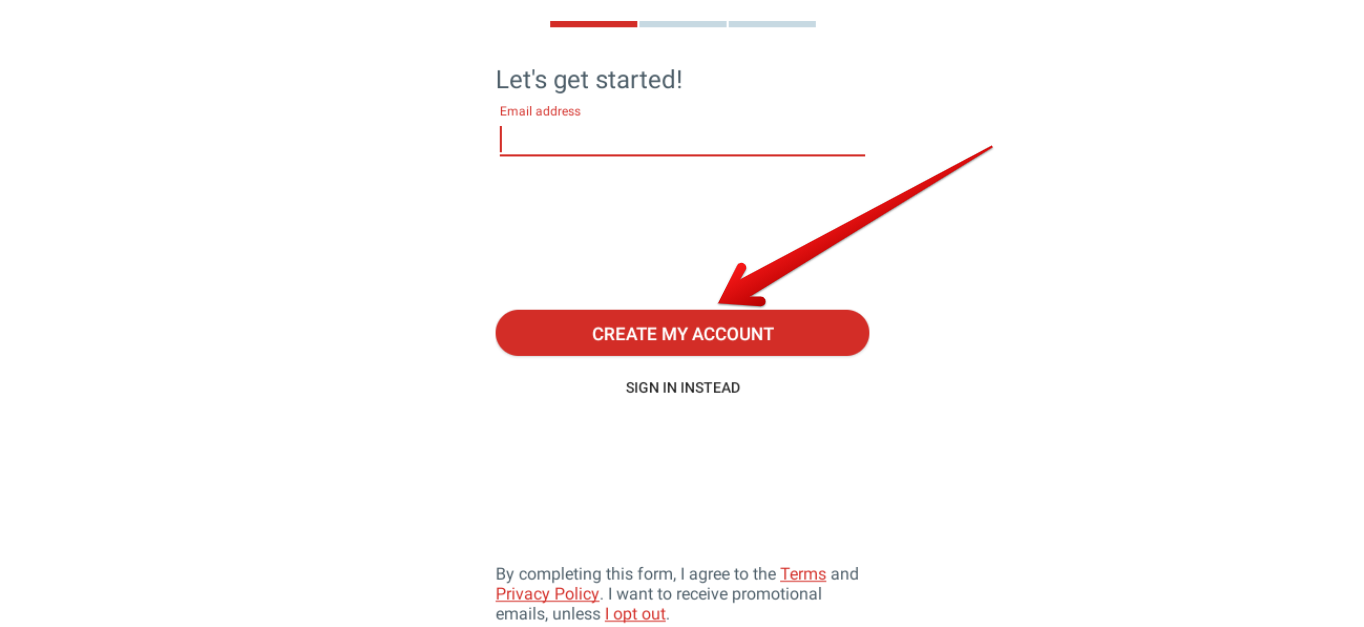 2) When you get to the next screen, you're going to have to choose a password and a password hint as well to help you recover your password in case of dire emergencies.

3) After selecting a suitable password, your registration process will be completed, and you're all set to continue using LastPass. We wish you the best of luck with it. Here's a screenshot for reference.