Asus has been long enough to make top-notch computers, laptops, and now Chromebooks in the game. Take the Flip C302, for instance. The Taiwanese company's product is one of the best-selling Chromebooks out there, packing in insanely good specs right alongside power, speed, and flexibility. It's also priced accordingly, and that's what makes us shed light on a more budget-friendly option from Asus – the C423. From the looks of it, the latter does seem very promising, but is it capable enough to become someone's daily driver?
In this article, we're going to review the Asus C423 Chromebook and take a close, hard look at it its features, functionality, and downsides as well. Let's start with the specs.
Asus C423 Chromebook Specs
CPU: Intel Celeron N3350
Display: 14-inch 1366 x 768 (720p) Display
Hard Drive Size: 32 GB
RAM: 4 GB
Camera: 720p HD Camera
Ports: 2x USB-C, 2x USB-A, 3.5 mm Headphone Jack, MicroSD Card Slot
Weight: 2.6 pounds
Price: $260
Asus C423 Chromebook Review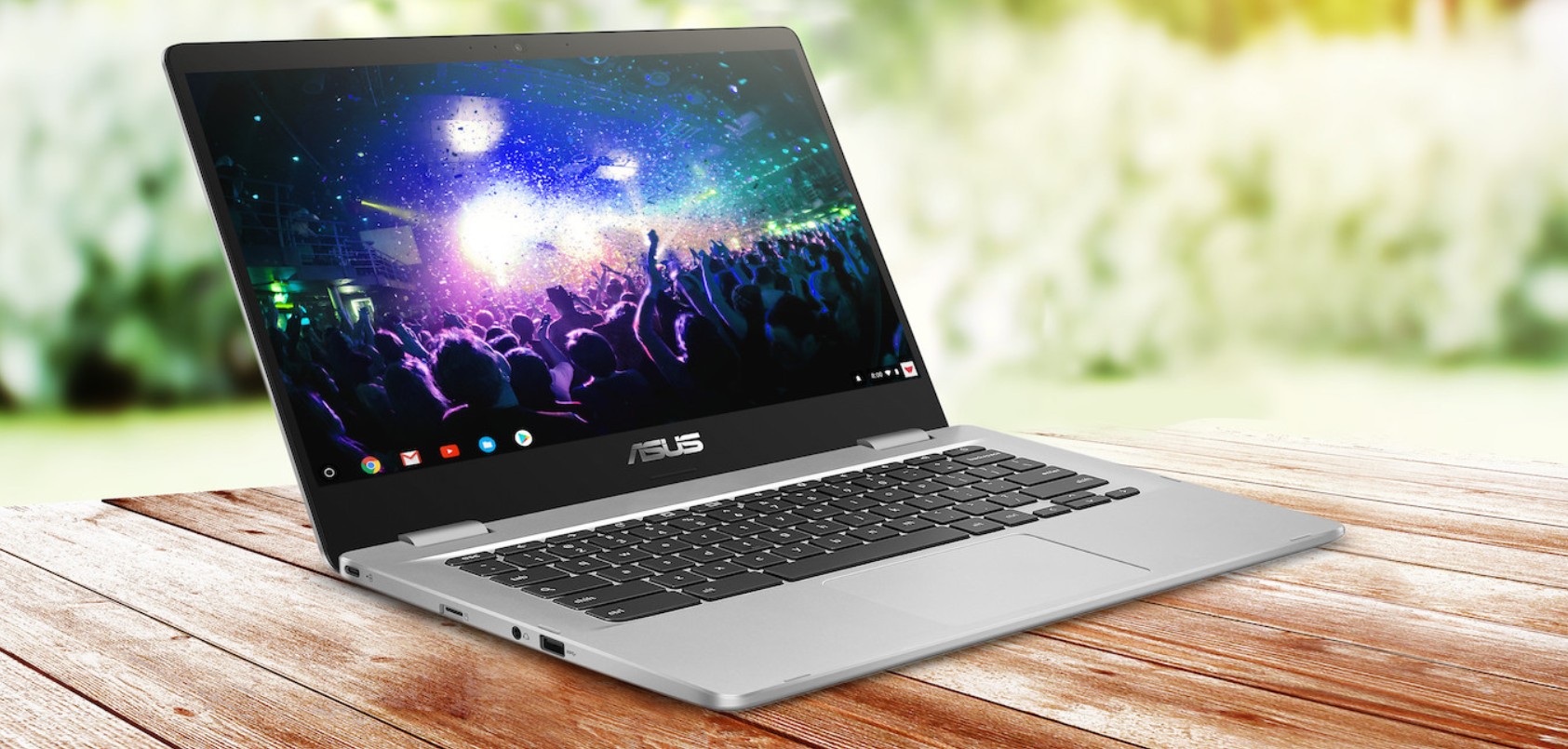 1. Design
The Asus C423 Chromebook is a modern machine with a beautiful design. Although it's been affirmed by the manufacturer that the device weighs 2.6 pounds, it feels a lot less! The C423 is optimally lightweight, making it perfect for portable usability. Dimensionally, it measures up to 12.70 x 9.00 x 0.60 inches (LxWxH), and that's very close to what the Acer 715 has to offer. This means that this Chromebook has a sizable footprint and looks big while sitting on your workspace. The sheer size of it makes us assume that this is a traditional Windows laptop, but we're genuinely talking about a Chrome OS.
Moving on to this device's build quality, we have impressive traits to talk about. You'll notice a smooth aluminum finish that really shines when it comes down to it. The aluminum continues when you flip open the clamshell, and high quality is easily noticeable. Although the body is made out of plastic, this device looks and feels totally premium – an admirable plus point, to say the least. Furthermore, you can expect zero wobblings and flimsiness from the C423. It's very sturdy and durable, and this is something that earns our nod of approval. The Chromebook has been through multiple drop tests, and it always turned out just the way it was despite rigorous testing.
Coming down to the keyboard, we were somewhat disappointed. It's satisfactory for limited usage, but if you're a writer looking for extensive bouts of writing on this Chromebook, you won't have good things to say about the keyboard. While we would've loved something similar to the Google Pixelbook Go's "Hush" keys, the keyboard of the C423 is fairly noisy, and typing will get tedious sooner or later. Like we said before, all this isn't much bothersome if you're looking to buy this device for basic social media use, research, or anything else that doesn't involve a lot of typing.
To add to that, the display of this Chrome OS isn't something to vouch for either. You're getting a 14-inch screen with a 720p display (1366 x 768) that looks downright dull and lacking for more colors. One of the first things you'll notice about the screen is an absence of a rich and vibrant display that truly catches the eye. With this device, that's not possible since this is one of this Chromebook's weakest facet, right alongside performance, which is to be discussed in the next section. However, when you factor in the price of $270, all the downsides don't seem too bad anymore.
The I/O is great on this Chrome OS if we're to focus on the better end now. You get two USB-A ports for convenience and compatibility, while two USB-C ports make sure that your device is charged super fast and you can transfer data and files in no time. There's also a standard 3.5 mm headphone jack and microSD card slot – all of which aim to make your experience better and more suited to your personal preferences. One thing we'd like to mention is the quality of the glass trackpad. Although it's smooth to run your fingers on and will get the job done for you, it feels cheap and of low grade. If you're not as fastidious as we are, you'll get along with it just fine.
2. Performance Specs
The C423 packs a dual-core Intel Celeron 3350 processor with 4 GBs of internal memory. The Chromebook, therefore, is an underperformer, but we all kind of expected that at this price, didn't we? You're good with 3-4 tabs open, with one of them being YouTube or any other graphics-intensive website, but anything beyond 5 open tabs will pin your device's performance to retrograde. The power of this processor can only allow so much before rendering the Chromebook unresponsive. Nonetheless, you can also game on the C423 by installing applications from the Google Play Store. This, too, will be short-lived if you go on to open 3-4 applications alongside 4-5 Chrome tabs.
This doesn't mean that the device is all useless. You have your fair share of web surfing and online computing, but don't expect anything far from its capabilities. With that being said, if you're a student with assignments to make and topics to research, 4 GBs of RAM will cover all your needs and will satisfy you at best. The same goes for office use since you can get by with this Chromebook just fine if your work doesn't revolve around heavy applications and extensive multitasking. The storage, on the other hand, is ample too. Sure, 32 GBs are not a lot, but what contributes generously in this regard is Chrome OS's cloud-based services. You can use Google Drive to back up and store your data to take the load off the device. Moreover, there's currently an ongoing offer that'll get you 100 GBs of free cloud storage with a Google One account. The offer expires on January 31, 2021; however, so be sure to act quickly if you intend to purchase this Chromebook.
Other variants of the C423 include a 15.6-inch with 16 GBs of storage and one with a similar screen but with 32 GBs of storage. As you go higher up the lineup, the display resolution gets a noteworthy upgrade and becomes FHD (1920 x 1080). Moreover, you also get the Intel Pentium N4200 processor, which packs double the punch. Since those variants are not our focus, we thought of leaving a brief introduction anyway.
Rest assured, if you don't push this Chromebook too much, it can be a good experience to own it. There's good storage considering the help from the cloud, and an adequate amount of RAM makes sure that basic work and tasks are dealt with smoothly.
3. Battery Life
Although this is something that's becoming more and more common in modern Chromebooks, the C423 boasts a stellar battery life. You get up to 10 hours of non-stop usage, and the device doesn't settle for anything less than that. This is a major benefit of the C423 that makes it possible to become more productive and get things done promptly. Due to the courtesy of the USB-C port for this device's charging, the battery fills up quickly too.
You can get up to 6 hours of usage in mere 25 minutes of charge, and taking the battery percentage to 100% will take you no more than 45 minutes. This is great for people looking to do more without worrying about charging their device time and time again.
4. Final Verdict
In our opinion, the Asus C423 Chromebook is a worthy purchase for sub $260. It has features sought-after in the Chromebooks of today, and it also takes quite a lot of beating in some areas, such as performance and display. That said, there's much more to like about this device – great battery life, convenient number of ports, premium design, and sturdy build quality. When you weigh in this much on a Chromebook that doesn't cost more than $300, there's a sense of appreciation that calls out for the C423.