From the Flip C302 to the C423, Asus has come a long way from where it first started. The Flip C436 is proudly the first of the many next-generation Chromebooks. The successor of the 2019 Flip C434 costs about $540 more or less. Since the C436 comes after that big-hit and promises to be the first to launch a foray into the next generation of Chrome OS, it does have quite the price tag. However, the big question is: the C436 talks the talk, but does it truly walk the walk as well?
In this Chromebook review, we'll dive deep into the Asus Chromebook Flip C436 to evaluate whether it's worth the average Chrome OS user's time and money. We'll highlight major pros and cons along the way, so if you're thinking of buying this device, do give this article a thorough read to come to a definite conclusion.
Asus Chromebook Flip C436 Specs
CPU: 10th Gen Intel Core i3
Display: 14″ FHD (1920 x 1080) IPS Display
Hard Drive Size: 128 GB
RAM: 8 GB
Camera: 720 HD Webcam
Ports: x2 USB-C, 3.5 mm Headphone Jack, microSD Card Reader Slot
Weight: 2.4 pounds
Price: $799
Asus Chromebook Flip C436 In-depth Review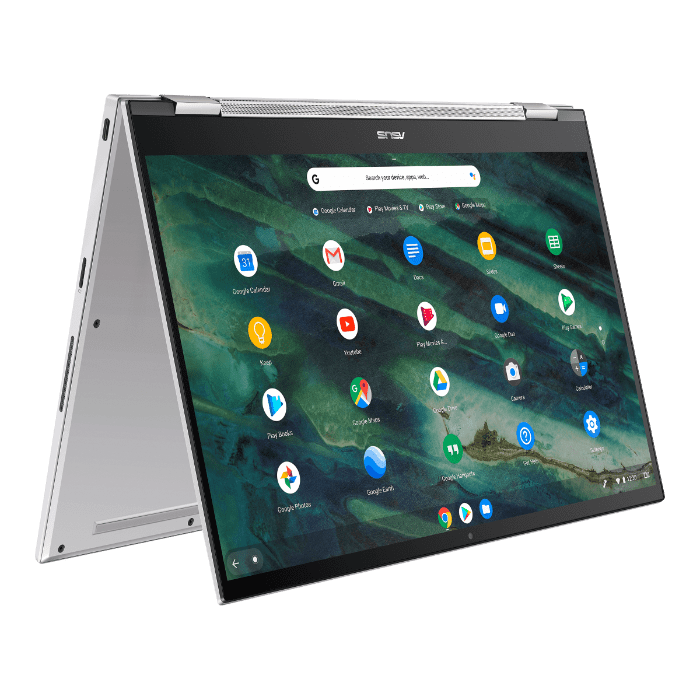 Design
The Asus Chromebook Flip C436 is a sturdy, well-built machine that occupies a reasonable footprint. It's quite lightweight—about 2.4 pounds—and is easy to carry around everywhere with you, making the device super portable. It also comprises just the appropriate thinness level and is about 13.8 mm thick on a scale. The C436 has a modern design with ultra-thin bezels that lend a stunning, nano-edge look. However, there isn't much variety in this Chromebook color scheme. Users are only left with a single option more or less in this regard – the Aerogel White or Silver, which aren't as colorful, nor do they offer contrasting shades. Still, the device does look pretty decent and robust.
Moving on to this Chromebook screen, we have a 14″ FHD (1920 x 1080) IPS display that sports vivid colors and good viewing angles. However, one major concern spurts out here: the brightness of this device. Quite disappointingly, the C436 becomes practically unusable if you take it outside – it doesn't matter if you increase the brightness to 100%; it doesn't help. We thought we wouldn't have to talk about an issue like brightness in a 2020 Chromebook, but oh well, here we are. Except for this hiccup, the rest of the impression that this device leaves is a fairly impressive one.
To compare it with its predecessor, the Flip C434, the C436 is more lightweight and thinner since the C434 weighs about 3.4 pounds, which is quite a bump from the 2.4-pound mark. The C436 also boasts a convertible, 2-in-1 design with a 16:9 panel ratio, not to forget the highly responsive touchscreen functionality. This Chromebook also comes built-in with USI stylus support. This was problematic and buggy initially, but Asus soon attended to the problem and fixed it with a Chrome OS build update. The stylus now works butter smooth, caters to all the pressure points, and nicely accommodates tilting. There's also a fingerprint scanner for biometric authentication. Signing in is fast and straightforward.
The hinge is also of top-rate quality and makes you feel the richness of the C436. You can lift the screen using just one finger, and there will be no signs of wobbling or flimsiness whatsoever. However, the magnesium alloy build makes it a bit less rigid and firm but more flexible. This is why the keyboard area of the device can succumb to applied pressure, giving off a notion of somewhat cheapness.
To speak of the keyboard, users of the C434 will argue that it had a better one than the C436. This ultimately boils down to personal preference, but this Chromebook's keys are indeed a little shallow. This might be perfectly fine for some but may come off as a bother for others. Still, typing feels great on it and isn't very noisy as well. One problem here, though, and that is related to the keyboard's backlighting. The backlit feature seems as if not a lot of care went towards making it since when you turn the backlighting on, the symbol on the keys becomes poorly visible. You have to find the right angle to evaluate which key is which, and if you're not a touch-typer, you're in for trouble.
On a positive note, the glass trackpad feels premium and works really well. It's responsive and fluid and seems comfortable for long bouts of usage. The C436 is mounted with a set of speakers on either side, and there's also one set right under the screen. Asus has branded these as "Harman Kardon" speakers. To talk about the I/O, old-fashioned users with their Type-A USBs will sadly have to find adapters for a workaround. This is because the C436 sports two USB-C ports on both sides, right alongside a 3.5 mm headphone jack and a microSD card reader slot.
Performance Specs
The performance is where the Asus Chromebook Flip C436 justifies its price tag and boasts its strongest attribute. This device is a crazy workaholic that has sworn not to slow down or cause even the slightest of inconveniences no matter how many tabs you open in it. The same goes for running virtual desktops on the C436 – it performs insanely well even if you're using Windows. This bad boy will handle everything you throw at it, period.
The best part is that all this is to speak of the $799 10th generation Intel Core i3 processor. This is coupled with 128 GB of handsome storage and 8 GB of plentiful RAM. Even the base version of this luxury-standard Chromebook does a pretty fantastic job performance-wise. Shedding some light on its other models, we have the Intel Core i5 and the i7 and available options. The maximum RAM goes up to 16 GB, while the Core i7 model ships with a massive 512 GB of eMMC flash storage.
Either it's your schoolwork, business occupation, or office use, the C436 will not disappoint. It's bound to excel in every setting, even when you push it to its mere Chrome OS extremes. The device can handle video and photo editing software and applications, plus the Google Play Store games are an easy breeze for this hard-hitter. The same goes for Linux apps unequivocally.
Additionally, the C436 has a couple of features that may not appeal much to the average user now but will definitely shine in the spotlight in a few years. That is to say, the Auto Update Expiration (AUE) date for this Chromebook is in 2028, so if you buy it today in 2021, you've got 7 years to work with this machine. A lot can happen in that time, and hardware upgrades such as Wi-Fi 6 and Bluetooth 5.0 that this device sports can become ubiquitous if they aren't right now.
Battery Life
The Flip C436, being a Chromebook, gives us no surprise and offers a stellar battery life that spans over 12 hours. The manufacturer has slapped on a 42Wh battery inside this device, and the capability is easily seen when using this Chromebook as a daily driver.
On a full charge that takes about 30-40 minutes, the C436 will give you a whole day of work, no questions asked. The Type-C USB charging slot comes into play here and offers fast charging from the get-go. Anywhere around 8-12 hours is a good figure for modern-day Chromebooks, and since the C436 is a premium one, Asus has hit right home with this device's battery life.
Final Verdict
The Asus Chromebook Flip C436 is a good Chromebook and has marked the beginning of the next generation of Chrome OS. However, a mediocre screen with brightness issues, an okay design, and backlit keyboard problems, the main factor that keeps us from giving a 10/10 rating to an otherwise decent Chromebook is the rather indecent price tag. For $800, there's much competition in the marketplace, and soon, you'll find yourself flooded with much better options at affordable price points that will make you regret this purchase of yours. Still, the C436's performance is unparalleled, and it also features an all-day battery life. These are some aspects that many users look for in a Chrome OS, and the C436 doesn't miss the sweet spot here.