Samsung is one of the leading tech companies out in the world today, and this flashy reputation doesn't come without several solid reasons. First, this South Korean giant has honored the Chrome OS space by creating the first-ever Chromebook to sport a 4K display, the Samsung Galaxy Chromebook – paving the way for other manufacturers to follow suit and come up with their own like-minded innovations.
Apart from the premium-grade, flagship line-up of Samsung's Chromebooks, it has catered to the budget-friendly region as well, with the landfall of a bunch of competent Chrome OS machines like the Samsung 15.6″ Chromebook and the Samsung Chromebook 4, which is currently on sale at Walmart. The discount has cut down a remarkable $170 off of the device's MSRP, making it possible to nab the Chromebook for merely $129, which is a fantastic price for this unit.
Read on as we list the technical specifications of the Samsung Chromebook 4 and leave our two cents on this device afterward.
Samsung Chromebook 4 specifications
CPU: Intel Celeron N4000 2.4 GHz
Display: 11.6″ HD (1366 x 768) LED display, anti-reflective
Graphics: Intel UHD Graphics 600
Hard Drive Size: 32 GB
RAM: 4 GB
Camera: 720p HD webcam
Ports: USB-C, USB 3.0, 3.5mm headphone jack, microSD card read slot
Battery: 5070mAh, 2-cell, Li-ion, 12 Hrs runtime
Charging Speed: 50% in 50 minutes
Weight: 2.6 lbs
Samsung Chromebook 4 overview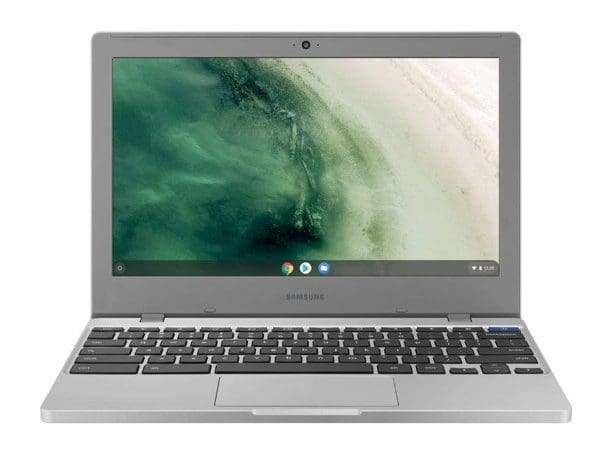 The Samsung Chromebook 4 is the go-to device for people who are always on the go. It's fairly durable and boasts a robust build quality that doesn't allow the device to bend or be pressed down on – both of which indicate a low-quality and cheap Chromebook. Thankfully, the device in question is far from that scenario. The Samsung Chromebook 4 provides a comfortable Chrome OS experience with performance levels that won't disappoint you for the days to come. Although it houses a plastic body, the overall quality of the build feels much more premium.
Picking this Chromebook up, you'll observe that the device is fairly lightweight, weighing around 2.6 pounds. Customers who've bought it say that it fits nicely within their backpack and is quite easy to carry around, given the slim profile. That is to say, the Chromebook 4 measures 11.33″ x 7.96″ x 0.66″(LxWxH) dimensionally.
What's exceptionally commendable about this device is its military-grade durability. This attribute makes the Chromebook a favorite for kids and school-going children who often tend to be clumsy with electronic devices like these. However, the solid stud at hand is definitely not your average Chromebook. People leaving reviews say that their children have dropped the device many times, handled it roughly, and even stepped on it, but nothing has brought the working of the Samsung Chromebook 4 down.
One of the most sought-after traits that people tend to gravitate towards is affordability, and this machine is packing this in spades. Credit where it's due, $129 is a top-class price for a Chromebook that's Google Classroom-enabled, actively runs the Play Store, and also operates the Linux Terminal with ease.
Port selection is also fairly adequate on the Chromebook 4. Users can enjoy the convenience of a USB-C port, a USB-A port, a standard 3.5mm headphone jack, and, of course, a microSD card reader slot to expand their storage and go past the constraints of a mere 32 GB hard drive.
Lastly, another attribute that makes the cut is the keyboard of the Samsung Chromebook 4. Again, we're talking about a component that has been built with a great deal of effort and thought. It feels comfortable to type on, and the keys boast an impressive click mechanism – something that one cannot expect from a sub $200 device.
If you'd like a Chromebook that gets the job done, has a commendable build quality, and is outright balanced, then look no further than this super affordable Samsung Chromebook 4!