If you head to the market to look for a high-end Chromebook, you might get introduced to Samsung Galaxy Chromebook along the way. With that being said, it's always better to do a little research yourself first and then listen to what the seller has to say about the product. Considering this, we've come up with this article where you'll get to know more about this product and see for yourself whether your computing needs will be satisfied by this Chromebook or not.
Samsung Galaxy Chromebook Review
This ChromeOS-powered machine has its own league. Instead of going for the usual benefits that people expect to get from a Chromebook (such as long-lasting battery life and low price), the makers have focused on giving its buyers a taste of something new.
Samsung Galaxy Chromebook is the very first Chromebook of its kind that comes with a stunning 4K display. However, before we go any further, we think we should tell you that this device comes with a price tag of $999. So, if you're okay with that, let's have a look at its most significant pros and cons.
Pros
1. Top-notch Hardware
Chromebooks can be beasts as well. When it comes to product specifications, the Samsung Galaxy Chromebook outmatches almost every other Chromebook in the market without breaking a sweat. Starting from its processor, this machine is coupled with an Intel i5 10210U (10th Gen) chip that provides processing speeds of up to 4.20 GHz. What makes this Chromebook even more powerful is that it accompanies 8GB of RAM (however, it's DDR3). So, it would be reasonably easy for you to play just about any game available on the platform and open multiple browser tabs at the same time. Plus, unlike the widespread belief that Chromebooks have insufficient storage space, this Chromebook comes with a 256 SSD. This means that even if you have a weak internet connection, you can always store your important data on your hard drive.
Other than that, let's get to the other hardware you'll find in this device. Firstly, Samsung has integrated two webcams into this machine: a 1MP webcam on the front side and an 8MP one on the keyboard deck. Also, this Chromebook has a surprisingly pleasant sound system. There are two speakers on the side of the machine and a larger one underneath it. Although they aren't that extraordinary individually, they do provide a pretty fine sound when they work together.  Now coming to its ports, there's a USB Type-C on the side with a UFS/uSD card slot right next to it.
2. Jaw-dropping Design
If the Chromebook's design is one of your top priorities, then you just can't go wrong with opting for the Samsung Galaxy Chromebook. First of all, it comes in two very eye-catching colors: Fiesta Red and Mercury Grey. Although Mercury Grey is a beautiful color, the red variant is sure to steal the show. Apart from having a strong build quality, the device is also pretty lightweight as it weighs only 2.2 pounds. Another feature that you'd only find in the most high-end Chromebooks is Fingerprint Unlock, and this device has it too. Plus, you're also getting a Stylus with this product that slides right into the side of the Chromebook—now how cool is that?

The Samsung Galaxy Chrome also sports 360-degree rotation, so it can be easily converted into a tablet to be used with its built-in Stylus. Even though it is an amazing feature, this shouldn't be a surprise since this product is in the same price range as the Google Pixelbook. With that being said, this product certainly has the edge for writers or anyone who types a lot, all thanks to its keyboard. Not only is it comfortable to type on, but its keys also make little to no sound at all.
3. 4K display
What truly sets apart this Chromebook from the rest of its competition has to be its display. As of now, there are only two Chromebooks in the market that come with a 4K screen, and one of them is the Samsung Galaxy Chromebook.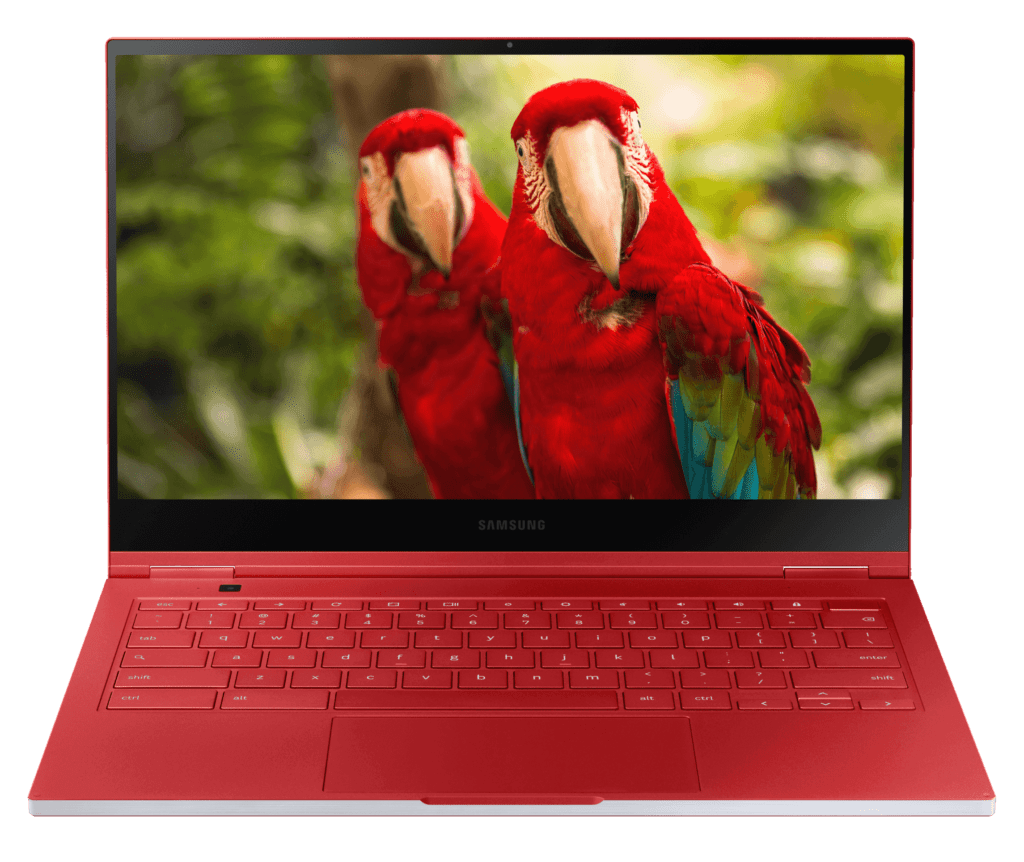 If we're honest, the majority of Chromebooks out there accompany a display that's either very low-resolution or isn't bright enough. However, this was the case until Samsung decided to be a game-changer and integrate a pretty high-resolution screen with sufficient brightness into its Chromebook. Accordingly, this is the perfect device for users who aren't willing to compromise a bit when it comes to the display department.
4. ChromeOS
An intrinsic feature of the Samsung Galaxy Chromebook is that it's based on the Chromium OS. A little about this operating system: ChromeOS is based on Linux and is also pretty easy to use since it looks just like your Google Chrome browser. So, this Chromebook would make the perfect choice for those who want to switch from Windows or macOS to Linux and worry about the complex user interfaces of Linux systems. Apart from that, this OS is also pretty lightweight in that it doesn't take too many resources. As such, Chromebooks don't normally come with top-notch specs. However, the Samsung Galaxy Chromebook is packed with a high-end processor and sufficient RAM, which means facing any lags while multitasking should be the least of your concerns.
People often step away from Chromebooks since they can only run apps found on the Chrome Web Store. So, no matter the processing power of the machine, you still won't be able to have access to a plethora of software that is supported by other operating systems. With that being said, there's one thing about this device that might ease this pain, and that is its support for Android apps. This means that in addition to the apps present on the Chrome Web Store, you'll also be able to get your hands on the Android apps found on Google Play Store. However, it is important to keep in mind that a fair percentage of apps could face issues working on a Chromebook. Additionally, unlike Windows updates that are known to cause several issues, the ChromeOS updates itself both automatically and seamlessly.
1. Unsatisfactory Battery Life
Let's face it: no one likes to see their device running out of battery just after a few hours of usage or charging it again and again. Moreover, one of the main selling-points of Chromebooks is that they usually offer a long-lasting battery life. With that being said, when it comes to the Samsung Galaxy Chromebook, the makers went with a different approach. Instead of prioritizing the battery life of the product, they focused on integrating high-end hardware into the product, in particular, the i5 processor and 4K display, because of which its battery life takes a heavy toll. Samsung could have gone for the m processor series, which is known for being power-efficient, but they decided not to, and that is why you'll only get about 5 hours of battery timing in one full charge.
2. Expensive
Chromebooks are generally known to be cheap, and this is why several people opt for them. However, it seems like the makers of this Chromebook wanted to challenge this stereotype as it comes with a price tag of $999. By releasing a product so expensive, Samsung has completely bid farewell to the demographic that's looking for a cheap Chromebook. And, what makes things worse is that unlike Google Pixelbook, which is also known to be an expensive Chromebook, this device does not come with a cheaper option for the buyer. With that being said, you can't say that this device should've been cheaper as its high-end hardware, astonishing design elements, and 4K screen make up for its price.
Conclusion
Looking at the Samsung Galaxy Chromebook this close, it seems clear that this machine might not be everyone's cup of tea. Even though it comes with a 4K display and top-notch hardware, you'd have to compromise on battery timing and pay a hefty amount of money if you want to get this machine. Lastly, we'd like to hear from its users their opinion on whether to go for this machine or not in the comment section below.