Dell is one of the best manufacturers in the Chrome OS industry, and with devices like the Dell Chromebook 3100, it's easy to see why. The US-based company has a diversity of products in its line-up that range from consumer-oriented to business and enterprise models. Its Latitude laptop series is also known for its high performance, great durability, and a nice overall experience.
Now that we've got our hands on a premium Dell Chromebook, it's time to see whether the Latitude 7410 makes the cut or not.
In this article, therefore, we'll be reviewing this high-end Chrome OS and discussing its major pros and cons to help you decide whether this device is worth buying or not. Without any further ado, then, let's dive straight into the technical specifications.
Dell Latitude 7410 Chromebook Specifications
CPU: 10th Generation Intel Core i5
Display: 14.0″ FHD (1920 x 1080) Display
GPU: Intel UHD Graphics
Hard Drive Size: 128 GB NVMe Solid State Drive
RAM: 8 GB
Camera: 1280 x 720p Integrated HD Webcam
Ports: 2 USB-C, 2 USB-A, 3.5mm Headphone Jack, HDMI port
Weight: 3.6 lbs (1.6 kg)
Price: $1200
Dell Latitude 7410 Chromebook In-Depth Review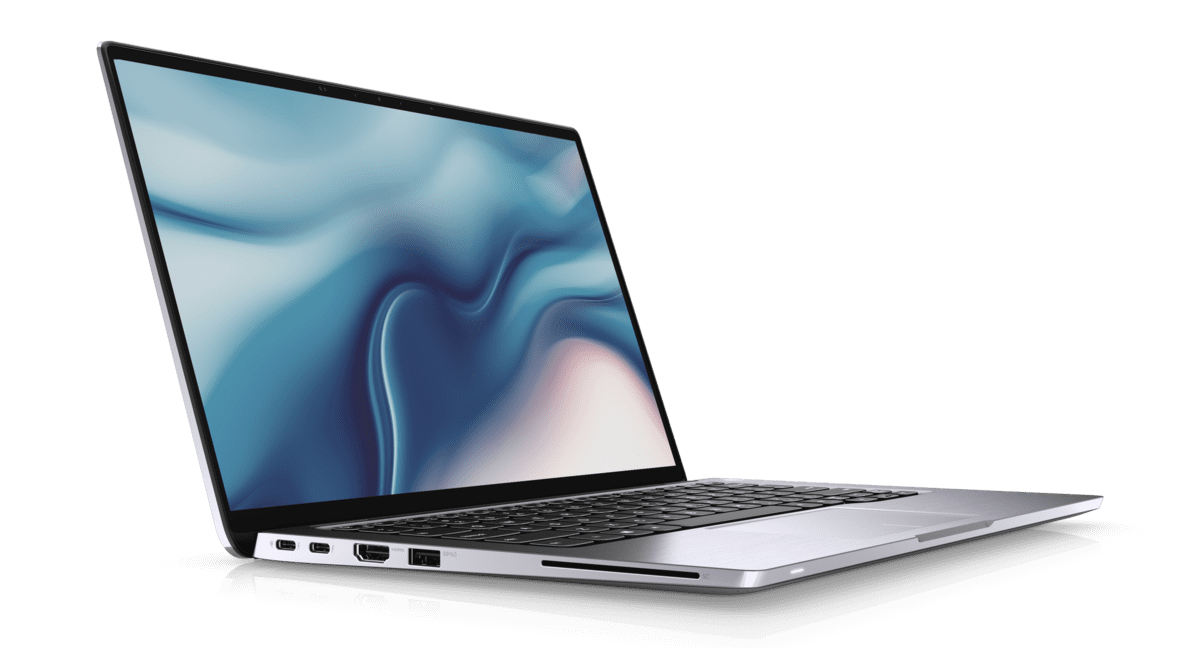 1. Design
The Dell Latitude 7410 Chromebook has been given a premium design that does nothing but impresses right from the get-go. After all, this should be a given at the exorbitant price tag of $1300, and luckily, there's going to be no compromise on the build quality. It's firm, rigid, and solidly built and comprises a brushed aluminum chassis. The finish on the device is smooth and sleek, giving the Latitude 7410 a top-notch look while it sits on your workstation at home or either at your office. In addition, the size is just right for a 14-inch Chromebook like this, but measuring up to 12.7 x 8.3 x 0.7 inches, the 7410 isn't the slimmest of devices out there. It does weigh a bit over 3 pounds and is fairly portable.
Marching towards the screen of this device, we couldn't help but point out the above-average dimness of the display even when the brightness was pumped up to a whole 100%. Looking at the specs-sheet, we found out that the brightness totals at 273 nitts, and these figures are way below what one can expect from a $1200 Chromebook. Apart from that, the display is FHD and sports 1920 x 1080 resolution on the base model. If you opt for the higher-priced version, the display goes as up as 4K. All things considered, the colors on the base model's screen are fairly sharp, and the viewing angles are appreciable as well. However, don't go about expecting to use this Chromebook on a bright day outside since that prospect is surely out of the question.
Moving on to the keyboard of this device, we have only positive things to talk about. The keys feel genuinely nice to type on, and the whole experience is outright pleasurable. The spacing of the keys is appropriate, and the keyboard has backlighting as well. However, there are no controls to adjust the brightness of the illumination of the keys – you can only toggle them either on or off. Other than that, the keyboard is clicky and is quite comfortable to use regularly. Dell has done the keyboard right, but unfortunately, the same cannot be said about the touchpad. It feels cheaply made and isn't seamless at all. Instead, you get unbalanced clickers that vary from each side of the touchpad, and the acceleration of the cursor is also arbitrary, meaning that it performs inconsistently at times.
Hopping back on the optimistic aspects of the Latitude 7410, port selection is nice and convenient. Being an enterprise model shouldn't surprise us at the end of the day, but the benefit of the confirmation is still fairly welcome. It sports a pair of USB-C ports, two USB-A ports, a standard 3.5mm headphone jack, and an HDMI slot for video conferencing, and everything of the like. Apologies, but we have to get back to the negative sides, at least for now, as the speakers of the device sound downright poor and deficient. Users have defined the forward-firing speakers of the Chromebook as hollow and scratchy, and something tells us that those aren't nice adjectives.
2. Performance
Factoring in the price again, the Dell Latitude 7410 should be a showstopper for what it costs, and quite frankly, it is indeed a tireless workhorse that can sail through your whole day with power and effect. After all, it's loaded with a 10th Generation Intel Core i5 processor, and these CPUs tend to be exceedingly fast and tailored to deliver stellar performances consistently. Under the shiny hood of the Latitude 7410, you get 8 GBs of RAM and 128 GBs of NVMe SSD. These core components, especially the latter, are quite speedy when it comes down to it and offer the best of the best in the Chrome OS market.
In addition, you're going to a multitude of configurations for the Latitude 7410. Some models go as up to 16 GB in RAM and 256 GB for the hard drive size. As mentioned earlier, the most premium variant of the 7410 comprises a 4K resolution display as well, offering a bright screen and stunning colors. However, the price of that whole configuration tops the $2000 mark, and we're now seriously pondering whether that huge sum of money is worth it for a mere Chromebook because you could get a highly powerful gaming laptop at that price. Anyways, if we're to summarize the performance of the base model, it's just what you expect from a luxury Chromebook like this – simply state-of-the-art.
3. Battery Life
The Dell Latitude 7410 Chromebook may have its fair share of sprawling flaws, but if there's one thing that you can count on it for, it's definitely battery life. This device dishes out an amazing battery runtime of more than 10 hours, close to the best figures in the Chrome OS business. Dell has managed to fit a 52Wh battery inside this enterprise frontrunner, and this allows it to boast an impressive battery life that's bound to survive a whole day of work.
Since it supports USB-C charging, the Latitude 7410 charges up pretty fast as well and will probably take you around 60-90 minutes to get it to 100%.
Final Thoughts
The Dell Latitude 7410 Chromebook is one fine specimen if we're talking about the build quality, performance, and battery life. However, a handful of downsides, such as a dimly-lit screen and a substandard touchpad, make this device hard to recommend. Additionally, the biggest factor that would make one think ten times before buying this device is the price. This Chromebook costs more than $1000 and even $2000 if you decide to max out your specs. Luckily, the competition has much better products up for grabs, and you should look towards other options if you've got a handsome budget to spend on a Chromebook.