Snapchat is crowned as the world's #1 photo-messaging app and is purely in a league of its own. It has over 238 million daily active users worldwide, and those numbers show no signs of slowing down anytime soon. With its massive popularity, the up-to-date app has become a must-have for everyone's phone, and people seem to be addicted to it day in day out.
Luckily, Snapchat can be downloaded and used on a Chromebook with equal effectiveness. The process is simple and straightforward and really takes a couple of minutes. Let's take a close, hard look at the app's most salient features before we get into that.
Features
Being a photo-messaging app, Snapchat prioritizes on providing the best photo sharing experience possible. It has a plethora of exciting and unique filters to choose from, and the app actively follows what's trending, by mostly releasing new features that suit the condition. In addition to photo-snapping and applying revitalizing filters, Snapchat has its very own chat messenger as well.
That's not all; you can add your friends from different social plugins like Facebook, and interact with them in many ways. Snapchat has basically revolutionized the whole concept of interacting online. It's built on the foundation of swift conversations that increases the natural flow.
By that, we mean if you send a photo or video to your friend on Snapchat, they'll only be able to access your sent item for a limited amount of time. This is the basic principle of this app. However, over the years, there have been many updates and game-changing overhauls that makes it hard to recognize Snapchat as compared to its day one edition.
This mainly happened to suit the teen users of Snapchat better. With a dynamic mind and energetic requirements, Snapchat has catered to its userbase by introducing a host of new functionality. For instance, there's now a relatively new Bitmoji app that lets you create your very own avatar, share it with friends, adorn it with life-like stickers, and use it during chats with friends.
Additionally, there's the Snap Map, allowing you to see your friends' location represented by their Bitmoji avatar and you tagging along with the fun as well. However, at its core, some of the key features involve taking a snap in the camera screen or holding the snap button to take a video. Consequently, you're presented with a horde of customization options that include filters, adding captions, drawing with a pencil, and much more.
Further, there's even a Discovery section where you get to see snaps and stories from major publishers like BuzzFeed into the app. This is the entertainment area where Snapchat shows you the latest news from your following. In conclusion, Snapchat and its usage only seem to get better with time, and if you haven't used it before, you're in for a treat.
Installing Snapchat on Chromebook
Installing Snapchat on Chromebook is nowhere near complicated. Make sure you follow the steps explained ahead to download and install the social app promptly.
1) Open the Google Play Store on your Chromebook.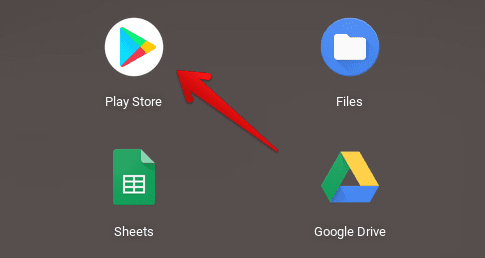 2) Type in "Snapchat" in the Play Store's search bar to look for the app and press enter.

3) You should see a screen that has Snapchat displayed at the front. Click on Install to proceed with the download.

4) After you've clicked on the Install button, a download should begin momentarily. As the app has a 0 MB size, the process shouldn't take more than a few minutes. When it's done, check your Launcher for the Snapchat app.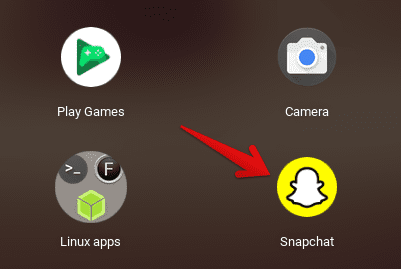 5) That's about it! If you see that icon, Snapchat has been successfully installed on your Chromebook, and you can now double-tap on the app to launch it.
Working
After you launch Snapchat, you're first welcomed by a sign in/sign up page. If you're new to the app, proceed with signing up to create a new account. The operation is effortless and takes mere moments to finish. However, if you already have a Snapchat account, continue by signing in with your existing credentials.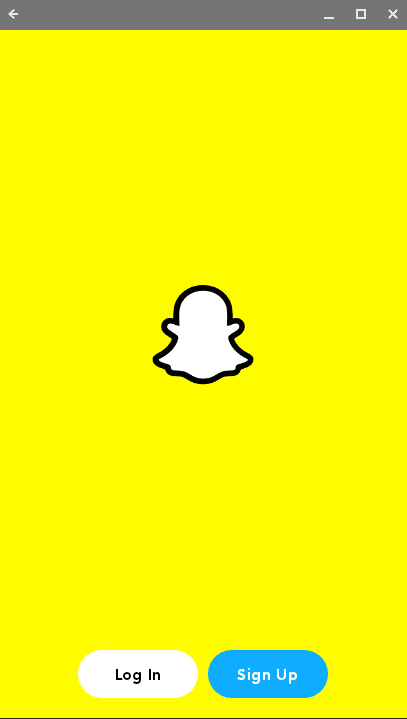 After that, Snapchat will ask you for a couple of permissions, mainly involving the camera and accessing your contacts. When you're done with that, you'll be taken to the app's main screen where all the magic happens. Explore the app as you wish and enjoy Snapchat in all its everlasting glory.