When it comes to desktop PCs and laptops, HP is one of the leading brands preferred by a significant percentage of computer users. With that being said, the company also decided to make a massive impact in the Chromebook industry by launching its HP Chromebook x360 series, which has received wide acclaim from Chromebook fanatics. However, in this article, we are going to delve deeper into this product so that you can find out whether it is the perfect fit for you or not.
HP Chromebook x360 14-series Review: What's good and what's not
This machine by HP was bound to make an impact in the Chromebook world. Not only does it come with impressive specifications, but it also accompanies a design that could be second to none. Nevertheless, there is much more to this flagship series than just this, and it's about time we have a look at it. However, before we do so, we should first note the Auto Update Expiry (AUE) for all its models so that you know when Google will stop supporting your device and providing automatic updates.
| HP Chromebook x360 model | AUE |
| --- | --- |
| 11 G1 EE | Jun 2024 |
| 11 G2 EE | Jun 2026 |
| 11 G3 EE | Jun 2026 |
| 12b-ca0xxx | Jun 2026 |
| 14 G1 | Jun 2025 |
| 14E G1 | Jun 2025 |
| 14b-ca0xxx | Jun 2026 |
As you can see, no matter the HP Chromebook x360 model you purchase, you need not worry about the product reaching its AUE any time soon. Considering this, you're all good to opt for any of the models listed above.
We have that clear, let's get to discussing the pros and cons of the 2019 model HP Chromebook x360 14-series, which is the latest model at the time of writing this article.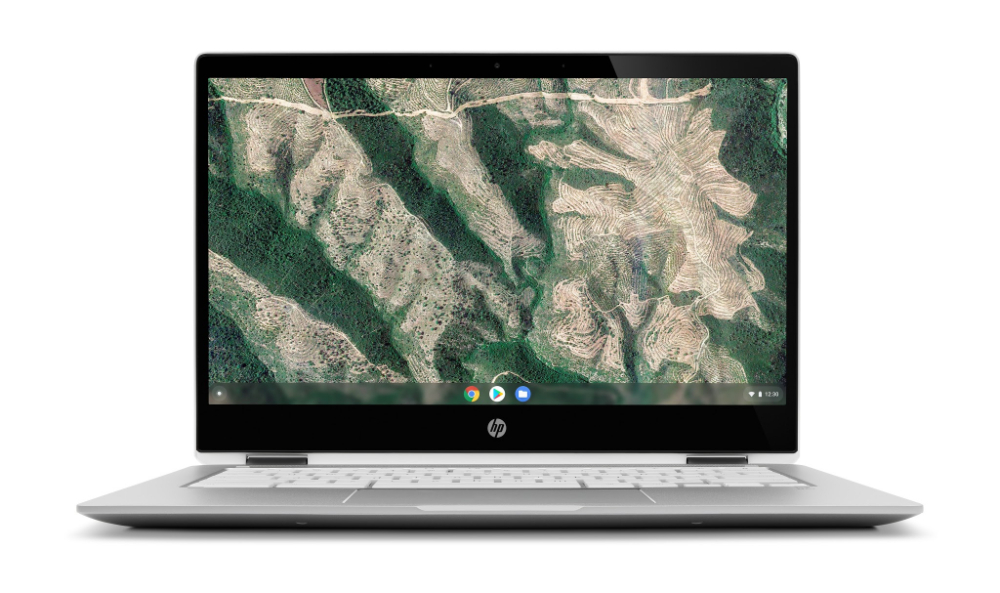 Pros
1. Top-notch Specs
Although some people believe that Chromebooks can't have high-end hardware, well, the HP Chromebook x360 series says otherwise. In the market, you're going to find many different variants of this Chromebook. All of them come with 8GB of RAM and 64GB eMMC storage, but, in terms of the processor, this series offers you three options: (1) Intel Core i3-8130U; (2) Intel Core i5-8350U; and (3) Intel Core i7.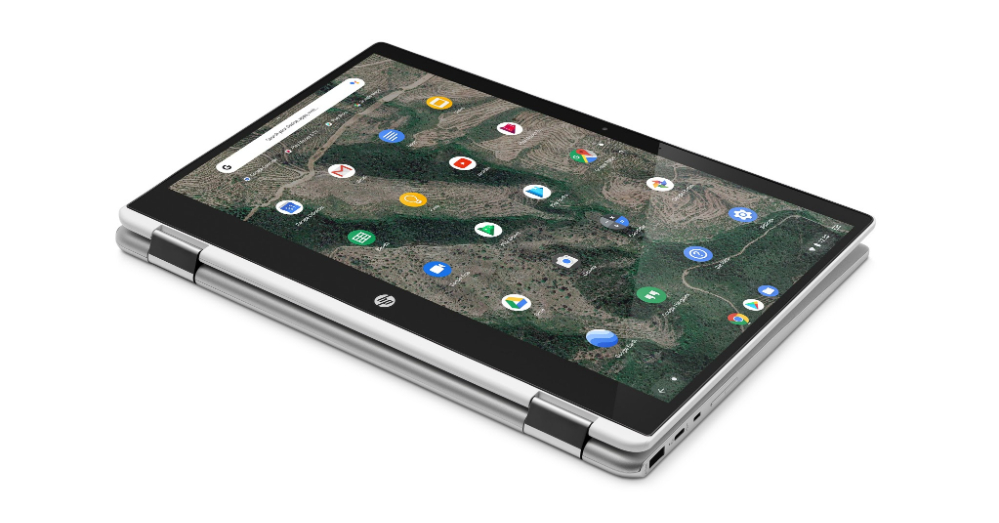 As you can see, all three of the processors aren't that bad as a Chromebook can even provide top-tier performance with an i3 processor. So, you can only imagine the snappy performance you're going to get with an i5 or i7 CPU. Other than that, the 8GB of RAM will also suffice for opening multiple tabs at once, playing games, or running applications that consume a lot of memory. On the downside, you'll have to rely on only 64GB of storage space, but it shouldn't be a problem since most of your data will be stored on the cloud.
2. Chrome OS
Even if we forget about all the other pros for a second, the fact that ChromeOS power this machine can still be pretty advantageous in itself. First of all, if you're migrating from a Windows-based system, you would see that the Linux-based ChromeOS is way more secure with increased protection against malware and smoother automatic updates. Plus, opting for a Chromebook can be a fine decision if you want to step into the world of Linux as a beginner since ChromeOS is pretty easy-to-use.
Since the Chromium operating system does not take too many resources, Chromebooks don't have to depend on very high-end specs to perform well. However, because the HP Chromebook x360 comes with superior hardware, users are bound to get a snappy experience even from its cheapest model.
Another great thing about this OS is that it's cloud-based and does not store most of the user data on the local drive. This is why even with a 64GB disk drive, you still won't have to worry about running out of storage space to save your data. However, because of this dependence, you might have to think about getting a high-speed internet connection, if you don't already have one.
3. Awe-inspiring Design
First of all, what makes this product truly stand out from the rest of the Chromebooks out there has to be the fact that its screen can be rotated to a complete 360-degree, making it a tablet. So, when you're done with work and in the mood for watching movies in the comfort of your bed, you know what to do.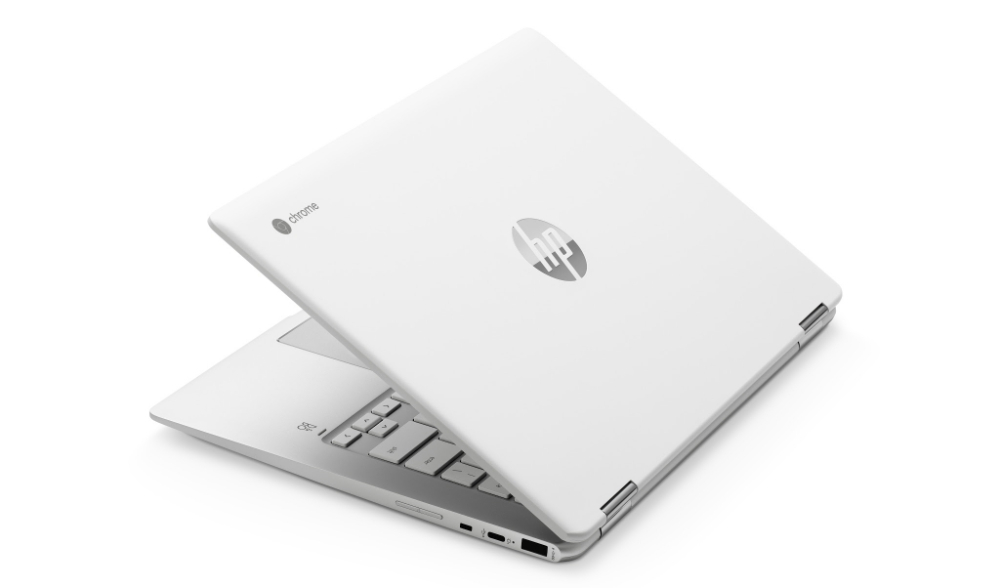 Secondly, this Chromebook also features a 14-inches, IPS touchscreen that supports1080p Full-HD resolution. Considering this, you won't have any trouble multitasking on this device since it comes with a screen that big.
Now coming to what this laptop looks like, there's a matte aluminum finish on this product with the trademark HP logo on the lid. However, if you're too busy of a person to clean this Chromebook regularly, it can look a tad dirty since its milky-white color doesn't help to hide the dirt at all.
A key feature that most people don't pay enough attention to when buying a laptop is its keyboard, and luckily, the HP Chromebook x360 doesn't lack in this department even a bit. With this product, you're going to find one of the best backlit-keyboards available on which you can comfortably type for hours. Lastly, you need not worry about getting tired of carrying around this Chromebook either as it only weighs 1.68KG.
4. Impressive Battery Life
Even though these Chromebooks don't come with m series processors that are known to consume less power, the HP Chromebook x360 can still provide stellar battery timing by lasting for up to 12 hours. Considering this, taking your laptop to your school, working during long flights, and having to plug the device to a charging port multiple times a day shouldn't be a concern for its buyers.
5. Android Apps
Why a lot of people shy away from moving to a ChromeOS-based device can be explained by the fact that this operating system only depends on the Chrome Web Store for all its application needs. This means that Chromebook users would lose access to the vast array of software that's available for Windows, macOS, and Linux-based systems.
Even though the Chrome Web Store has plenty of apps, it just can't compete with the app market of other operating systems. There's no fixing this issue, but what can help comfort the Chromebook users is support for Android apps, which comes with the HP Chromebook x360. Because of this, you will not only have access to the software available on Chrome Web Store but also be able to download the majority of apps from Google Play Store.
Cons
1. Not so affordable
HP Chromebooks x360 are generally known to be quite affordable, but the HP Chromebook x360 14-series is not going to be easy on your pocket. Even the cheapest model of this series sporting an i3 processor comes with a price tag of about $800. Moreover, if you're thinking about opting for the model with an i5 processor, get ready to spend about a grand. If you believe that's a lot, wait till you get to hear about the i7 processor-featuring model that has a price tag of around $1500. With that being said, even if this Chromebook can be expensive, it still makes up for its price, all thanks to its many different features.
2. Dim Screen
Also though the HP Chromebook x360 provides crystal clear display quality, its users would soon notice that its screen isn't as bright as it should be. This shouldn't be problematic if you're using the laptop in indoor lighting, but if you plan on using the computer outside your home, you might have trouble seeing the screen during the daytime. Plus, when watching a movie shot in the dark, one might also not be able to see a lot of details in the background.
Conclusion
After having a pretty comprehensive look at the product, it's safe to say that the HP Chromebook x360 is one of the best Chromebooks out there, all thanks to its beautiful design, fast processing speed, and fantastic battery life. However, before opting for this machine, you should also keep in mind that it can be quite expensive, and the screen brightness fails to deliver as well. With that being said, if these cons aren't that big of an issue for you, then there's no stopping you from purchasing this Chromebook by HP.