The selling rate of Chromebooks is now at an all-time high with a whopping 44% yearly growth, as reported by Google itself. Users will find Android apps in not only small-screen devices like smartphones but also in Chromebooks and tablets that have relatively larger displays.
With that being said, there is no doubt that small screens are no match to their larger contemporaries when it comes to their visual aspects. Considering this, Google has been attempting to make developers pay more attention to devices with larger displays for quite some time now. Google also joined hands with Samsung, Lenovo, and other such OEM companies for the promotion of large-screen devices. All of this accumulated to Android developers spending 400% more time focusing on ChromeOS-based applications.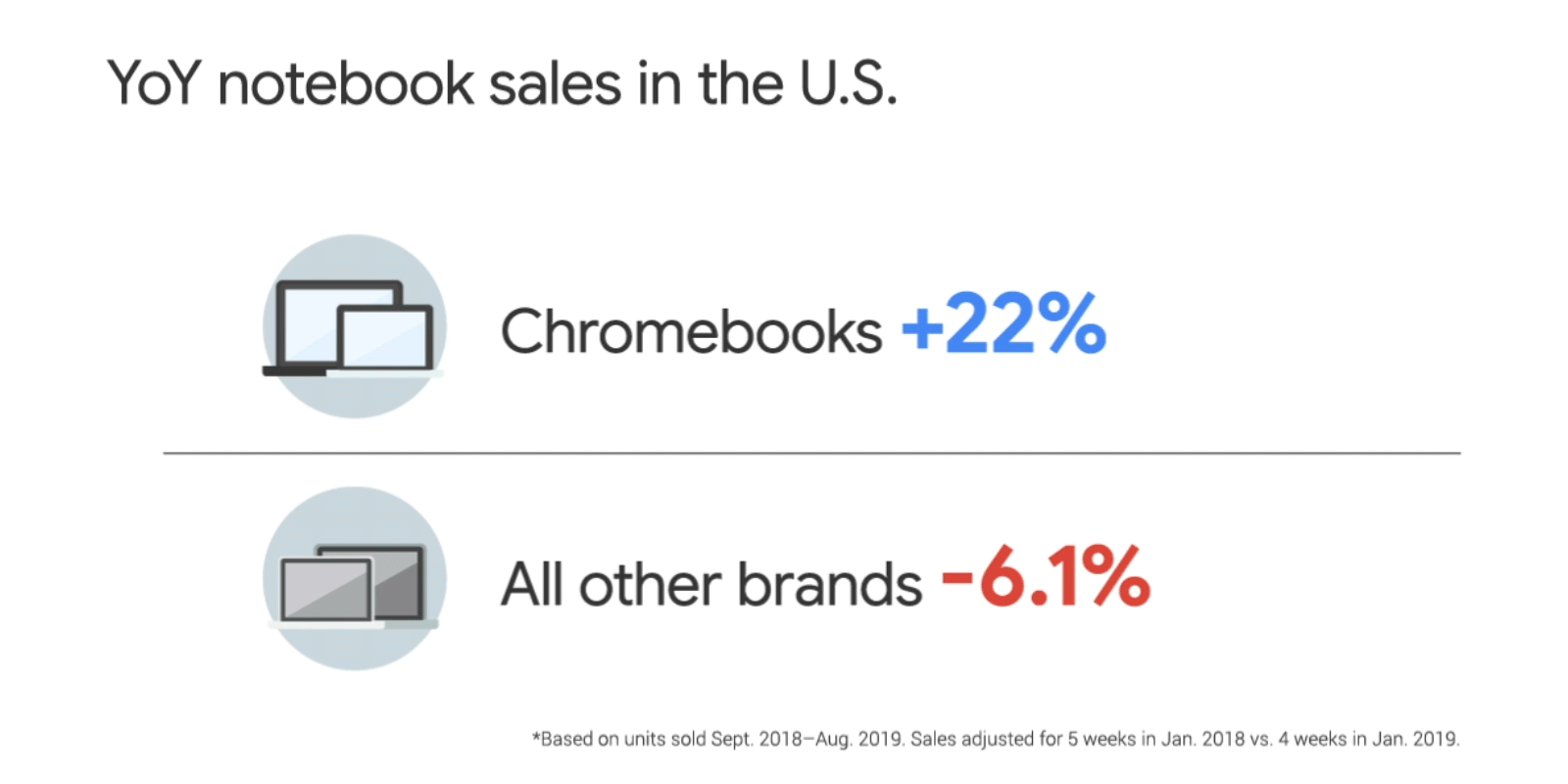 Thanks to all of these efforts, people have started showing more interest in Chromebooks, resulting in increasing its annual sales to 44%. When it comes to specifics, it all began with 2018's Black Friday as Chromebooks attributed to about 33% of all notebook sales in the United States. Apart from that, there was a 22% yearly growth in Chromebook unit sales. At the same time, other types of notebooks faced a decrement in their sales.
With that being said, Google isn't planning to halt its efforts any time soon as it also announced how Android developers could easily code for ChromeOS. A great feature of ChromeOS version 80, which is due for release in 2020, is that it allows the direct deployment of Android apps to Chromebooks without the need for any additional devices. However, if you're a developer, you won't have to wait for the release of ChromeOS 80 to try out this feature as it will become available in November for testing purposes.
In terms of the most popular IDE for Android development, namely Android Studio, a developer is only one click away from quickly installing it on their ChromeOS system. Other than that, the software should also exhibit reduced latency and a faster UI with the enhancements in Linux GPU acceleration support. Due to Linux container backup and recovery, users will also be able to set up development environments better.
Also, developers don't have to rely on a single device anymore as the container-based architecture of ChromeOS allows them to save their complete workspaces on external storage devices. Accordingly, you will have a backup of everything you do and work on different Chromebooks simultaneously. Plus, Android developers can also test out PIP functionality in their apps by going to Developer options in Android Settings.
Conclusion
Google had been focused on making Android developers realize the significance of large-screen devices. Now, the company has been seemingly reaping the benefits of these efforts with some significant growth in Chromebooks sales. However, if Google doesn't lose its dedication to the product, saying 'the sky is the limit for Chromebooks' would be an understatement. Don't forget to check out the official news source so that you can have a closer view of the future of Chromebooks.