Google Chrome is known for its features and tools for integrating third-party web apps and extensions. These add-ons work seamlessly with the browser and increase its functionality considerably. An extension is the best option if you need some tools for a specific task on Google Chrome. This provides you with features within the access of a single click.
These extensions are installed through Chrome Web Store, filled with applications and web programs. With the help of these extensions, you can genuinely transform your browser experience.
25 of the best Google Chrome extensions you should be using
We have put together this list for anyone looking to install useful and high-rated Google Chrome extensions.
1. Evernote Web Clipper
This web clipper is used to bookmark any online chunk of text that you need to read at some point in the future. It works like the built-in bookmark feature, but it can clip specific segments of any webpage. If you want to save something later, click on the Evernote icon from the extension tab.
The clipper will then provide you with the option to save either the entire article or a snippet. Evernote Web Clipper comes along with various tools so that you can arrange and organize the things you have saved. You can also make separate notebooks for web copies that can easily be accessed.
2. FoxClocks
If you need to know the current time in different time zones worldwide, FoxClocks is the perfect extension. This is a customizable world clock that can display times from other cities at the bottom of your browser. You do not even have to click on the extension icon for this. This extension is handy for individuals who work with people from different regions of the world. With this wonderfully built world clock in your browser, you can make sure that you will not miss any critical deadline.
3. Tab Wrangler
Google Chrome is infamous because of the Google Chrome not responding issue. Read on what to do when your Google Chrome is not responding. That issue is caused whenever you open more tabs than your processor can easily handle. To cater to this, you can have Tab Wrangle installed.
This extension automatically closes all tabs that have been inactive for some time. You can also set the time after which this action is triggered. With this enabled, you no longer have to worry about inactive tabs. Moreover, the closed tabs are also saved under the extension's buffer, enabling you to open them whenever you want.
4. Pushbullet
Many people who spend their working hours on internet browsers complain about switching between their mobile phones and computers. Pushbullet allows you to link your smartphone with Google Chrome. With this done, you can push all message and call notifications directly to your browser.
This enables you to handle important calls and messages without leaving the browser window. It can also send URLs, multimedia messages, and more. If you use WhatsApp more often than the local messages, do not worry. Pushbullet allows you to link WhatsApp and Facebook Messenger too.
5. Adblock Plus
There are plenty of ad blockers available all over the internet. However, finding one that works perfectly with all platforms is not easy. This is where Adblock Plus comes in. It can seamlessly block all ads from websites, webpages, online platforms, and more. What's great is that it is entirely free as well.
Adblock Plus also keeps a count and record of the blocked ads through its extension. You can exclude a specific URL or unblock any ad that you want. It can be configured quite effectively with all forms of content, making it one of the most widely used ad blockers on Google Chrome.
6. LastPass
With more and more online accounts opening up every day, it becomes increasingly difficult to remember or manage your passwords. Some people rely on using the same password everywhere. This is undoubtedly one of the worst things you can do regarding account security. Instead, it would help if you used a reliable password manager that stores all of your passwords and keeps them secure at the same time.
LastPass can also be used to generate a relatively strong password whenever you are asked to create a new account on any site. Besides, it tells you if any password is weak and should be changed.
7. Save to Pocket
This is another excellent web clipper that works just as effectively as Evernote. The one you choose for yourself depends on a personal preference. This extension can be used to clip brilliant snippets from any website on the internet. Other than that, it can also store images, videos, URLs, and web files.
The unique feature of this clipper is that it is also available in other software forms. You can install this app on your computer as well as your smartphone. Once you have linked your account, the same list of bookmarks can be accessed from all devices.
8. The Great Suspender
The Great Suspender is another extension that helps to keep your Google Chrome up and to run. It works by automatically closing unused tabs so that the RAM usage can be minimized. If you think it can erroneously suspend a tab you need after some time, this is not the case.
Users can easily whitelist a specific URL or site that will not be suspended irrespective of anything else. Moreover, it also sets aside those tabs currently playing any media file. Due to these additional features, The Great Suspender gives a tough competition to the Tab Wrangler.
9. GoFullPage
This extension is used to capture a full-page screenshot of any webpage on the internet. The default output format is JPG; however, it can be changed accordingly. Whenever you need to store the entire website in a single image, click on the GoFullPage icon in the top right corner. This will start the screen capture process.
You can also use the "Alt + Shift + P" keyboard shortcut. It scrolls over the page during screen capture and takes several screenshots depending upon its length. Once done, these images are then combined to form a single output image stored locally on your computer.
10. Stylish
Stylish is a customization app available as an extension on Google Chrome. Through this incredible add-on, you can completely transform the appearance of any web page on the internet. This extension's wide variety of custom skins makes it relatively unique and valuable.
Moreover, some dedicated skins are available for famous platforms such as Facebook, Google, Reddit, Twitter, Instagram, YouTube, Vimeo, and more. You are also able to edit these themes however you like. Once you have selected skins for every site, they can be toggled on and off with a single click. If you want to customize Google Chrome even further, make sure to browse this list of the 10 best themes for Google Chrome.
11. Privacy Badger
This online security extension secures your internet browsing as much as possible. Unfortunately, scams, frauds, and malware spread all across the global internet. To protect yourself from these potential threats, you need an extension that can work in coherence with the browser's internal security features. Privacy Badger specializes in blocking spying ads and trackers to steal your information.
With this installed, you can ensure that no site or web app leaks data or other private information from your device. This deals with one of the biggest problems of modern internet browsing. Here, you can read about installing a free VPN on Google Chrome.
12. Dark Reader
Some people prefer dark mode over the regular version. However, not all sites provide dark mode features on their platform. With Dark Reader installed on Google Chrome, you can turn any site into its dark rendition. All you require for this is a single click on the extension icon. This will immediately inverse the text color and turn the light background into the dark.
It also provides you with other controls that let you tweak your display however you want. You can change any website's brightness, contrast, font, and other display elements through this. You can also store the settings for a particular URL so that you do not have to make these adjustments every time.
13. Invideo For YouTube
This extension is specifically designed for avid YouTube viewers. More often than not, you do not want to watch the entire video and skip right to the part you are interested in. However, this is impossible as you do not know where that specific chunk of video will appear.
With Invideo For YouTube, you can search inside a YouTube video and then move to that particular section. Please note that this extension only works with videos that have captions. Since almost all YouTube videos have auto-generated captions, it seamlessly works most of the time.
14. Turn Off The Lights
Turn Off The Lights is also designed for individuals who spend most of their time on YouTube. When you are watching a video or a live stream, there are plenty of other elements on the screen that easily capture your attention. If you want to focus solely on the video, this extension can dim other parts of your screen while keeping the video at normal brightness. This allows you to focus on the video window while keeping the other items on the screen. Besides YouTube, Turn Off The Lights works with Vimeo, Dailymotion, and Netflix.
15. Instapaper
After reading its name, you might have guessed that this extension has to do something with Instagram. However, this is not the case. This bookmarking extension lets you save and export web snippets to any other device. You must link all of your devices with this extension to work perfectly.
Once done, you can send over any clipping from your internet browser to all of these previously linked devices. Its simple-to-use user interface has made it possible to reach a broad consumer base that has been rating it relatively high ever since.
16. Hover Zoom+
Hover Zoom+ does precisely what its name says. You can use it to zoom into any picture, video, or GIF on the internet by just hovering your mouse over it. While surfing the internet, you might have noticed many times that some sites do not allow their visitors to zoom into images.
Unfortunately, a workaround for that is usually quite extensive and time-consuming. Alternatively, you can install this extension and use it to zoom any picture or video preview without even a single click. This open-source platform can also be incorporated with other tools if you like.
17. Kami
This is a classroom tool for students, teachers, researchers, educators, and instructors. Kami is one of the most comprehensively developed online tools that offer you to increase productivity with an overall workflow. You can use it to annotate documents, PDF files, images, and other classroom resources. Kami also features a built-in webcam that can take classes over the browser.
More importantly, there is complete support for Google Drive documents, so you can access all files without ever downloading them in the first place. With Kami installed on Google Chrome, you are guaranteed to increase the classroom throughput noticeably.
18. Marinara
Marinara is a time management assistant who incorporates the Pomodoro technique. This technique has yielded better and more effective results whenever applied in a professional or non-professional setting. In the Pomodoro technique, you break down the available time into 25-minute intervals separated by 5-minute breaks.
Marinara integrates the Pomodoro clock into your browser, continuously displayed on the screen. Along with timing the work and break intervals, it also records your productivity over weeks and months. You can also turn the display off to not disturb you after working hours.
19. Bitwarden
This cross-platform password manager enables you to integrate all security features into a single extension. When you sign up for a new account anywhere, Bitwarden will automatically generate a strong password. After that, this library of passwords can be kept safe on your master account while keeping all account credentials as safe as possible.
You can also toggle on the auto-login feature, which saves considerable time if you need to switch between multiple accounts. This sets this password manager apart from its competitors in usability and connectivity.
20. Momentum
Momentum is a customization app that lets you update all new tabs with a calm and soothing background picture. Apart from this, you can also design a custom dashboard that is particularly personalized for you. It can display a  clock, a to-do list, a greeting, or any other widget that you prefer.
With a customized dashboard available whenever you open up a new tab in Google Chrome, you will level up your workspace. This increases your day-to-day productivity and allows you to keep yourself motivated for the task at hand. With Momentum installed, you can modernize the Google Chrome homepage entirely.
21. Save Image As Type
The name of this extension is pretty much self-explanatory. It allows you to save any image on the internet in different formats. However, when you save an image from the internet several times, it turns out to be in Webp format. In that case, you have no choice other than to download it and then convert it to JPG or PNG manually.
The Save Image As Type completely takes care of this problem. You can use it to download any picture in the format of your own choice. It works with all photos, irrespective of their original format.
22. Checker Plus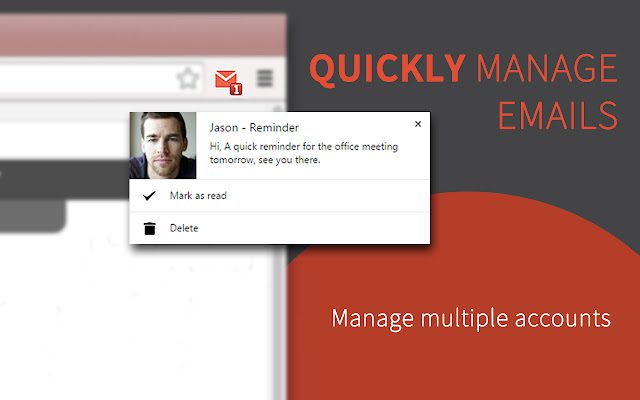 Checker Plus is an email manager that can handle multiple email accounts simultaneously. If you are someone who has to deal with more than one email account, you know how it can quickly get out of your hands. It becomes increasingly difficult to keep track of all updates.
Moreover, it is not easy to switch between two Gmail accounts either. Checker Plus allows you to integrate all accounts under one roof to send, receive, and forward mails, just like Gmail. It enables you to access multiple accounts without opening a new tab on your browser.
23. Loom
This is an entirely free-to-use screen and cam recorder. It comes with all the latest recording features available in any other screen recording software. This can also record and save windows other than the ones opened through Google Chrome. Once you have finished recording, it gives you a shareable link to the video file.
This means that you do not even have to download the video if you do not need to. Still, you can store it locally in multiple video qualities and formats. Loom also works perfectly well with webcams and supports all of these features on this mode.
24. Scener
It is probably one of the coolest Chrome extensions launched recently. Scener is a virtual movie theater where you can enjoy your favorite movies and TV shows with your friends. It integrates your webcam with the platform you are streaming the video. Scener can host more than one million guests in a single watch party where all users can join in through video, audio, and live chat.
This is a great way to catch up with your friends without ever leaving the comfort of your bed. Please note that it can only be used if all guests have Scener installed on their respective browsers.
25. URL Render
You can use this extension to display the contents of any website without even opening it. URL Render works exactly like the Windows Preview feature in the file manager. Whenever you perform a Google Search and see the results page, you can click on any URL, and it will be previewed right on that window.
This becomes quite useful when you need to open multiple search results. It saves a considerable amount of your time as you do not have to open and close each link individually. Moreover, the result displayed on that page will not only be for preview purposes. You can navigate inside that window just like you do when you open the site in a regular tab.
Conclusion
Having a massive library of extensions and add-ons, Google Chrome is one of the most customizable internet browsers out there. You can use these extensions to help you in your day-to-day activities. They allow you to increase productivity and build on the personalized aspect of this browser.