The competition in the tech industry is fiercer than ever, especially among the tech giants such as Google, Microsoft, and Apple. Unlike the old days when a Windows operating system was the only choice you had, things are much different now. The chances are that you may have heard of the popular ChromeOS that has taken the operating system world by storm. It is an operating system powered by Linux that has undoubtedly shaken up the market ever since it was introduced in 2011.
ChromeOS has already become a force to be reckoned with. It is not surprising why so many people who were at one point diehard Windows users are also transitioning to this promising operating system. It would not be an overstatement to say that Microsoft really needs to step up their game nowadays.
Why Chrome OS?
The countless Windows updates have certainly become a nuisance for the users because they introduce one bug after another. Because of this, we have come up with a list of five compelling reasons in this article that will tell you why you should consider switching to ChromeOS. So, let's see them below.
1. Enhanced Stability
In today's fast-paced world, one of the most important things is to ensure stability, and that is exactly what Windows is lacking nowadays. The frequent Windows updates have proven to be more of a curse than a blessing, which is mainly because they almost always come with new bugs that can drive the users crazy.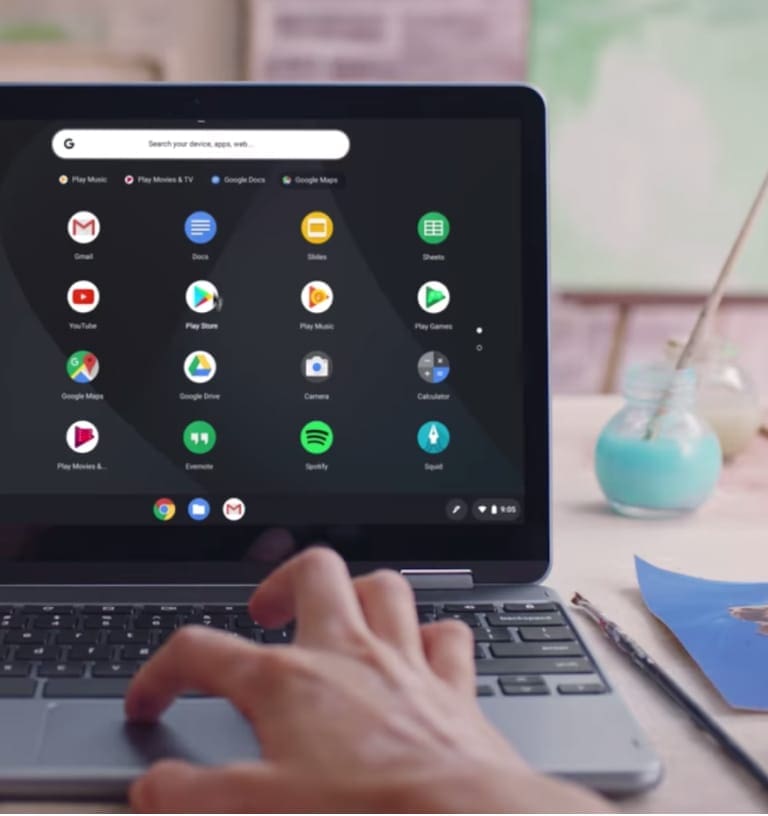 One of the most excellent examples of these bugs is when a few months back, a Windows update broke the start menu while attempts were being made to fix Cortana. And of course, how can anyone forget the infamous update that deleted critical data of the users.
Updating the computer certainly sounds like a nightmare for Windows users. However, this is not the case for the people who use ChromeOS. There are consistent updates of the ChromeOS every six weeks, making the operating system more stable. Considering all this and the fact that it is built from Linux, it wouldn't be wrong to say that ChromeOS certainly outclasses Windows by far in terms of security.
2. Hardware Compatibility
If you are ever looking for ways to stress yourself out, then you should try migrating from one Windows PC to another. Even if the version of the OS is the same, there is no easy way to do so. You would have to use third-party tools to help you get the job done, and downloading or purchasing them can also be a hassle.
ChromeOS provides you with a simple and effective solution if you are moving to new hardware. All you need to do is log in to your Chromebook using your Google account, and you are set to go.
3. Data Backup & Security
If something happens to your laptop when running Windows, you can bid farewell to your data unless you made any recent backups, and even if you did, then good luck finding them.
ChromeOS, on the other hand, steps up a notch when it comes to data security and backup. Even if your old Chromebook is buried in the depths of Mariana Trench, you can still access your data as soon as you sign in to your new machine because of their cloud-based storage service.
4. App Stores
It is said that with the release of Windows 10 S, only the applications that are downloaded from Windows Store will run on your machine. We all know how notorious the Windows Store has been for fake apps and security issues for the past few years.
Even if the Windows Store does improve, there is no guarantee it will meet the requirements of the users. With that being said, Chrome Web Store has been rising in popularity not only for its countless selections of apps but also because the latest Chromebooks support Android applications. There are new apps updated on the PlayStore daily, so you will undoubtedly have a more abundant variety to choose from.
5. Performance on Budget
Last but not least, we all know how long, at times, Windows can take up to boot. Even if it quickly gets to the desktop screen, by the time your machine is done loading its background apps, you can finish running a marathon. To get high-end performance on Windows, you would need to spend a significant amount of cash on upgrades, and even then, it might not meet your requirements.
However, Chromebooks, with the help of ChromeOS, provide next-level performance on a low budget. Apart from that, you can find high-end Chromebooks as well at reasonable prices to smoothly perform your day to day tasks.
Conclusion
ChromeOS has secured its place in the market, and it has not even been ten full years since its launch. Give it a few more years, and we would not be surprised if it ultimately starts dominating the tech world. Also, don't forget to tell your personal opinion on which is the better operating system in the comments down below.