The Acer Chromebook Spin 514 has been revisited and given a touch of AMD just ahead of CES 2021. This is, in fact, one of the first devices ever to come with Ryzen-powered C-series chips manufactured by AMD itself but particularly for Chrome OS. With this Chromebook, Acer has managed to forge into the consumer and enterprise market by blending in specs that lend better GPU power, more efficiency in running the Google Play Store and Linux apps, and a good experience in general.
With the initial impressions out of the way, let's gauge whether the Acer Chromebook Spin 514 is worth your time and money or not. In this article, we'll take a good look at this device's major pros and cons and drop our verdict on it in the end. Without any further ado, then, let's begin with the technical specifications.
Acer Chromebook Spin 514 Specs
CPU: AMD Ryzen 3000C Processor
Display: 14″ Full HD (1920 x 1080) IPS LCD Touchscreen Panel
Hard Drive Size: 64 GB eMMC Flash Storage
RAM: 4 GB
Camera: 720p HD Webcam
Ports: 2x USB-C, 2x USB-A, 3.5 mm Headphone Jack, microSD Card Reader Slot
Weight: 1.55 kg
Price: $479
Acer Chromebook Spin 514 In-depth Review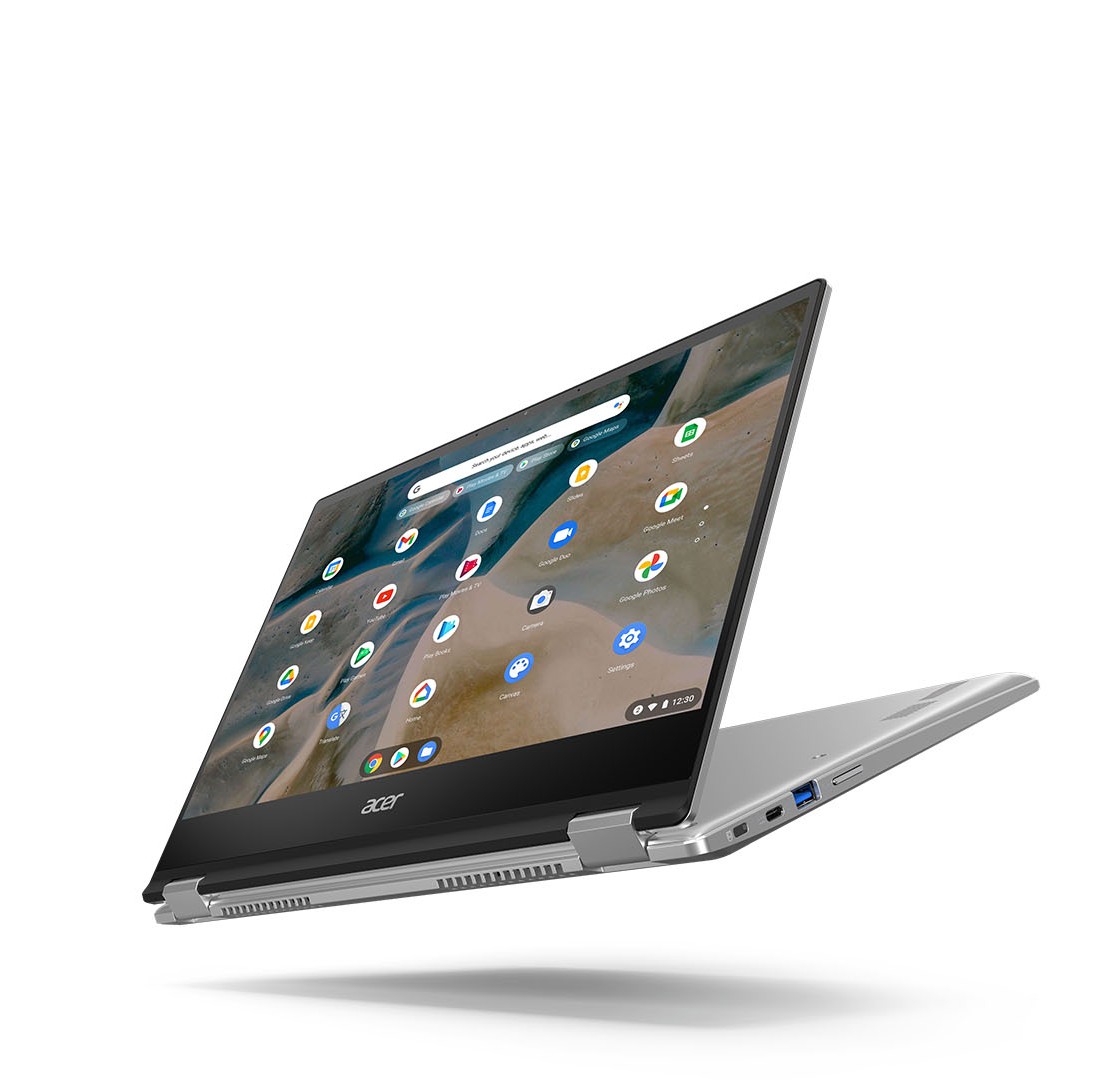 Design
The apple doesn't fall from the tree. This is a saying that we can perfectly relate to here since the Acer Chromebook Spin 514 shares many similarities from the Acer Chromebook Spin 713 design-wise. From the overall build quality to its convertible form factor, the Spin 514 does resemble the 713, but there's no surprise that it's been made much better. First off, the device boasts a sandblasted and anodized aluminum chassis that really impresses right off the bat. It feels super rigid, and the feel is you get when you pick the Chromebook up is simply premium. Comparing it again to the 713, the 514 is about a millimeter thicker, but it still doesn't feel heavy nor bulky; yet it's just the right amount of weight that allows the device to be used on the go.
Moving on to this Chromebook's durability, the Spin 514 is as good as it gets. Since this device is targeted at the consumer and enterprise market alike, people need devices that can truly hold up. The same goes for Chrome OS's sprawling success in the education sector and how kids can roughen these laptops up. For this reason, the Spin 514 comes branded with military-grade durability (MIL-STD 810H) and can take quite a beating. The aluminum chassis has been reinforced with layers of protection, making the device resistant to dents and corrosion. The Spin 514, being fully drop-tested, can also withstand falls from heights that measure up to 48 inches. Additionally, expect the device to tolerate 60 kg of applied force easily. For users that need devices to put up with their blunt usage, this Chromebook definitely makes the cut.
Next up, we have the screen of this device to talk about. We're looking at a 14-inch FHD (1920 x 1080p) touchscreen with an IPS display that sports nice colors with ample brightness that's somewhere in the range of 280-300 nits. It genuinely feels high-quality and leaves a good overall impression, especially because of the Gorilla glass that consolidates the screen. Furthermore, the viewing angles are also appreciable. What's unique is the remarkable hinge of this Chromebook. Having a 2-in-1 design, it's obvious that there are several viewing modes in this device. What's not so obvious is how the hinge noticeably locks in at every viewing mode and requires you to give it a little extra push to make it go to the next viewing mode. This goes a long way in preventing wobbling and flimsiness when typing and using the Chromebook, thus making it very stable.
For the stuff that is left, there's nothing bad or unsatisfactory to mention. The keyboard of this Chrome OS also feels firm and nice. The keys have a decent amount of clickiness on them, and the experience, all in all, is simply great, no questions asked. Coming a bit down, we have a mylar trackpad instead of a glass one. Fret not, since that makes all differences negligible and trivial. The mylar trackpad neither feels cheap, nor is it floppy. On the contrary, it seems well-built.
The I/O on this device is something to vouch for as well. We have at our disposal two USB Type-C ports that support USB 3.2 Gen 1 and two USB-A ports as well for legacy devices compatibility. While we're at it, let's not forget the 3.5 mm headphone jack and the expandable storage option you get with the microSD card slot. All of this screams that the Acer Spin 514 means real business and is here to stay and make a name for itself.
Performance
The performance is what makes the Spin 514 gather all the hype. With an AMD-made Ryzen 3000C processor, this Chromebook runs like a fanatical dream. To explain this a bit better, this device incorporates a 7-nanometer chipset inside. This is relatively much effective and shortens the distance that the signals have to travel within the processor. Consequently, lesser power is consumed along with frail dissipation of heat. All this makes for improved battery life and enhanced performance, thus the wonders of AMD. As for the GPU, this Chromebook is powered by AMD Radeon Vega Mobile Graphics. All those applications on the Google Play Store can work flawlessly, given the additional graphical power.
With this processor, it is 4 GB of RAM and 64 GB of eMMC flash storage. The RAM and the CPU both suffice the daily hustle of school and office comfortably while giving you enough storage to secure your data offline. For more space, Google Drive is always on the ready. The Spin 514 has another model as well. This is specifically manufactured for enterprises, businesses, and organizations that demand a laptop by their needs. Acer has decided to name this version the "Acer Chromebook Enterprise Spin 514," and you'll be quite interested to know the specs of this pure beast.
This hardware-oriented model of the Spin 514, first and foremost, flexes the Ryzen 7 3700C Processor for non-pareil, unreal performance. Secondly, it will come loaded with the Chromebook Enterprise Upgrade that fully unlocks Chrome OS's business-dealing abilities. Last but surely not least, this version will pack up to 16 GBs of RAM and up to 256 GBs of NVMe SSD storage. It's quite apparent how Acer has built a device that—surprisingly for a Chrome OS—really seems capable of running an enterprise. We almost forgot to mention how this model will also have an HDMI port. In these dire times of the Coronavirus, more and more individuals have to work from home. Bearing this in thought, the convenience of HDMI means easy effort in setting up group meetings and everything of the like.
Battery Life
The manufacturer says that the Spin 514 can dole out 10 hours of battery life. This is a decent figure that offers a full day of work or school without breaking a sweat. Anywhere from 8-12 hours is average for a typical Chromebook, but anything below that is certainly insufficient. Quite fortunately, this one doesn't let down.
Packing a USB-C charging slot, expect lightning-fast charging times. It would take about 30-40 minutes for this Chromebook to deliver to you its absolute maximum.
Final Verdict
Our opinion about the Acer Chromebook Spin 514 is all-optimistic. For a budget that's somewhere along the lines of mid-range, this device is a fantastic option to get your hands on an AMD-running device. It has everything that the average consumer is looking for – great performance, awesome battery life, good-quality screen, nice keyboard, and ample storage. Those trying to find a daily driver for themselves can really deliver daily look no further than the Spin 514.