Google Chrome has emerged tremendously over the years and has rightfully earned the top spot for being the #1 internet browser out there. All the popularity and success didn't come easy, though; Google Chrome has received constant updates since its launch and strived genuinely to become the browser that it is today.
Installing it is a matter of minutes, and usually isn't much of a problem, but this article is the one for you if things aren't working out and want to install the browser offline.  The following will elaborately guide on you how to make the install on your desired computer easily.
Installing Google Chrome on Windows Offline
1) The heading is self-explanatory, but you will require a stable internet connection at one point, and to be concise, in the very beginning. Start by heading over to the following link and installing the file on a different computer connected to the internet.

2) Click on "Download Chrome" to begin the process. The file size is around 65 MB, so the download shouldn't take more than a couple of minutes. Once the Chrome Standalone file has finished downloading, the next step is to move this file to the computer where you want to install the Chrome browser.
3) To do this, you can use a USB stick or share the file digitally using any chat messenger like WhatsApp Web. The point is, there are many ways to get the file on the computer where you're going to install the browser, so choose the method that suits you, preferably.
4) Once that's done and dealt with, you're going to open the file on the computer where you have transferred it. This will open up a window that's going to pick up the installation from there.
5) The next step is only about carefully following the onscreen instructions that you'll be presented with so the Chrome browser can be installed on your computer. Therefore, this step doesn't require an internet connection and can be done offline.
6) To simplify it for you, there's nothing complicated involved. You'll just be asked for permission where you'll allow the Chrome Standalone file to make changes to your computer. After prompting, the installer will begin the process, and Chrome will be installed on your computer. Here's how it looks in the end.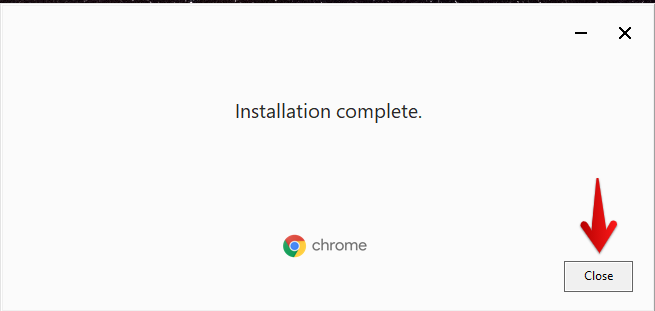 Conclusion
Google Chrome is a super-fast browser that's made to deliver. It's incredibly lightweight and is a must-have tool in the world of today. It's not a heavy program but does have trivial requirements. For one, it demands that you have Windows 7, Windows 8, Windows 8.1, Windows 10, or any of the later editions. Another prerequisite is an Intel Pentium 4 processor or anything that's come up later. The key here is the compatibility for SSE2- which is a set of processor supplementary instructions.